Michael Page International stresses on plans to continue its geographic expansion in emerging markets due to many long-term growth opportunities, especially in Latin America and Asia. In spite of expansion plans it remains cautious about the current macro economic outlook. The group is scheduled to release its first quarter trading update on April 11, 2012.
The specialist recruitment consultancy firm has maintained a strong balance sheet and has continuously delivered shareholder value by investing in future of the business during 2011 and at the beginning of 2012. But shares of the group fell as much as 3.7 percent at 1231 pm BST on a sluggish U.S. jobs growth report for March, with demand for temporary workers expected to trend higher as companies seek flexibility in an uneven economic recovery.
This year the group has already completed new country openings in Colombia and Morocco, opened an office in Suzhou, China and will soon open an office in Taipei, Taiwan.
"During 2011 and the start of this year, we have opened 22 new offices including Pudong, Suzhou, Houston, San Francisco and Cologne as well as new country operations such as Malaysia, India and Qatar, all of which have had a successful start. We now have 42 offices in the territories of Asia, Latin America and Germany, which generated 26 percent of our gross profit and grew by 52 percent in 2011. These, amongst others, provide us with numerous long-term growth opportunities," said CEO Steve Ingham.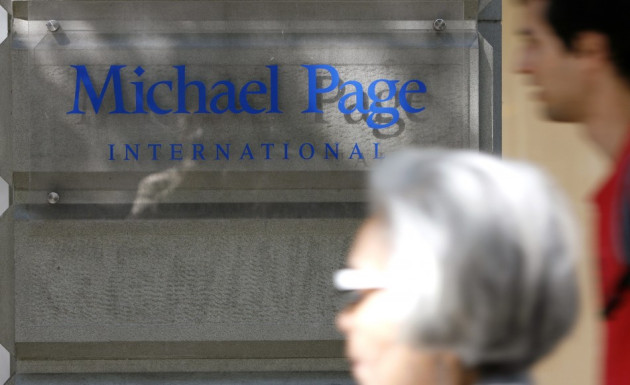 Michael Page posted a growth of 22.4 percent in its revenue for the year 2011 at £1,019.1 million compared to £832.3 million in the previous year. Revenue from permanent placements in 2011 grew by 27.3 percent to £453.1 million, representing 44.5 percent of group's revenue. Its profit before tax was up by 19.3 percent at £86.1 million with basic earnings per share of 18.7 pence.
"In the first two months of 2012, with the exception of financial services, we have seen no significant further slowing, and in a number of geographies activity levels have remained strong, increasing group gross profits by approximately 10%," Steve Ingham added.
While Southern Europe remained fragile, Michael Page continued to achieve good growth in other areas including in France and a strong growth in Germany. However, in the Britain, except banking, it reported almost flat gross profit. The group performed well in Australia in the first two months, while in Asia it continues to see good levels of activity, except banking. It is excited with the progress of its new investments made in Argentina, Chile and Colombia.
"Although the global recruitment market has clearly slowed down recently, the group has started the current year well and we will be increasing our forecasts," said Analyst Robert Morton from Investec Securities.
Below is a summary of sector comparisons in terms of price earnings, earnings per share, dividend per share, dividend yields, return on equity and price-to-book ratio. The table explains how the company is performing against its peers/competitors in the sector. The table below represents top ten companies based on market capitalisation.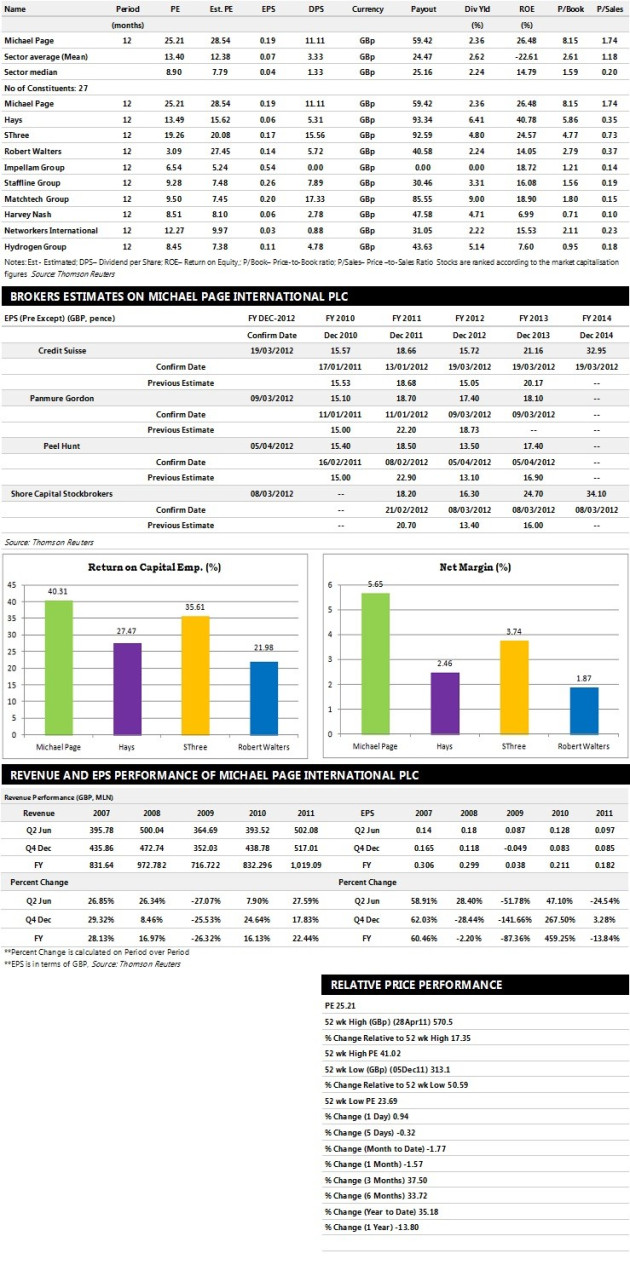 Brokers' Views:

- Peel Hunt recommends 'Sell' rating on stock
- Credit Suisse assigns 'Hold' rating
- Panmure Gordon gives 'Sell' rating
- Numis Securities assigns 'Outperform' rating with a target price of 500 pence per share
- Jefferies gives 'Buy' rating with a target price of 500 pence per share
Earnings Outlook:

- Peel Hunt estimates the company to report revenues of £590.60 million and £674.70 million for the FY 2012 and FY 2013 respectively with pre-tax profits (pre-except) of £62.80 million and £80.90 million. Earnings per share are projected at 13.50 pence for FY 2012 and 17.40 pence for FY 2013.
- Credit Suisse projects the company to record revenues of £1,110 million for the FY 2012 and £1,249 million for the FY 2013 with pre-tax profits (pre-except) of £72 million and £97 million respectively. Profit per share is estimated at 15.72 pence and 21.16 pence for the same periods.
- Panmure Gordon expects Michael Page to earn revenues of £1,061 million for the FY 2012 and £1,098 million for the FY 2013 with pre-tax profits of £79.90 million and £83.10 million respectively. EPS is projected at 17.40 pence for FY 2012 and 18.10 pence for FY 2013.