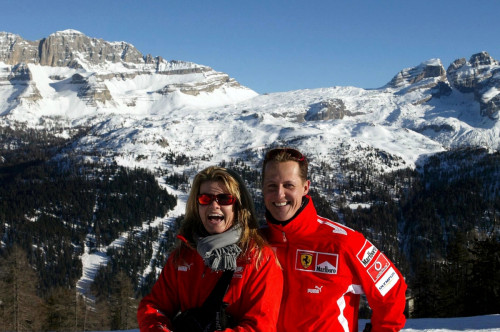 A camera attached to Michael Schumacher's helmet is being examined in the hope it will reveal more about the circumstances of his skiing accident.
The Formula One world racing champion was left in a critical condition following the accident, which occurred during a family holiday at the Meribel ski resort in France. He remains in an induced coma at the Grenoble University Hospital.
According to French news agency AFP, authorities are examining the device attached to his helmet in a bid to find out more about the circumstances of the accident.
Meanwhile, Schumacher's family have said they are "utterly overwhelmed" and "moved to tears" by a silent vigil staged by fans to mark the Formula One legend's 45th birthday.
In a statement on the racing driver's official website the family said: "The incredible sympathies shown today by the Ferrari Fans outside the hospital has utterly overwhelmed us and moved us all to tears.
"We are deeply grateful for it and also for all the heart-warming and heartfelt wishes for Michael to get well soon, which have reached us from all over the world."
In an earlier statement the family said: "We all know he is a fighter and will not give up."
The Ferrari team, which has 130 clubs in Europe, provided 20 coaches across Italy to bus in fans for the vigil.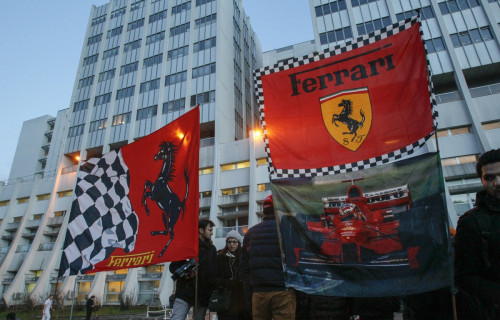 Fans left a poster outside the Grenoble hospital saying: "Schumi, all our thoughts for you and your family."
Accountant Stefano Pini, 47, who arrived from Milan to pay his personal tribute, said: "Schumi has given us a lot in the past. The least we could do is to come here and support him and his family on his birthday."
French fan Gabriel Klose, who arrived with his 12-year-old son, said: "He is one of my greatest idols. We want him to fight and to return to us."
German former tennis ace Boris Becker wished his compatriot "Happy Birthday" on Twitter, adding "Fight Schumi" in a German hashtag.
Schumacher's family including his father, brother, wife Corinna and their two remain at his bedside.