Former Formula 1 champion racing driver Michael Schumacher is said to be in a critical condition following a skiing accident.
The 44-year-old was taken to hospital after being injured in a skiing accident while on holiday in France with his 14-year-old son and several friends.
He was said to have sustained head injuries after the accident in the ski resort of Meribel on Sunday morning.
Schumacher was reportedly conscious immediately after the injury and was airlifted off the mountain in the popular Three Valleys area.
At first his condition was not believed to be serious, with the French Mountain Gendarmerie stating that Schumacher's life was not in danger, however it has now been reported that he is in a coma.
Olivier Desaulty, a spokesman for Meribel Alpina, a ski lift company, said: "Some skiers saw the accident and called us.
"We immediately sent two ski patrols who were close by. They checked him and called a helicopter. Apparently he was briefly – a minute or so – unconscious. But he came around quickly and was then talking.
"He said he had hit his head on a rock. He was wearing a helmet fortunately. The helicopter arrived very quickly and he was taken to hospital."
A spokesman for mountain rescue said: "He fell and hit his head at 11.07am. A helicopter was at the site at 11.15am. A doctor specialising in emergencies was on board and treated him immediately. He was in shock.
"He was then airlifted to the hospital in Moûtiers. He arrived at 11.53am and underwent tests but the accident was considered serious enough for him to be transferred to the larger hospital in Grenoble at 12.45pm.
"He suffered a "serious brain trauma with coma on his arrival, which required an immediate neurosurgical operation."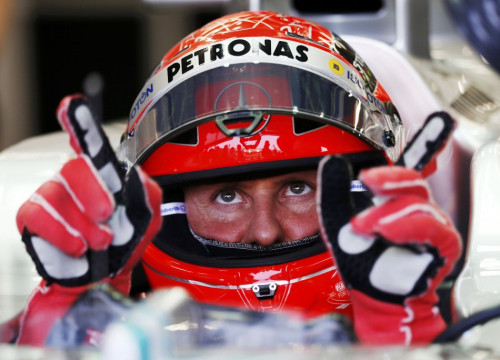 According to the hospital treating Schumacher in the French city of Grenoble he suffered a "serious brain trauma with coma on his arrival, which required an immediate neurosurgical operation."
The German sports stars agent, Sabine Kehm, issued a statement saying: ''Michael fell on his head during a private ski trip in the French Alps.
"He was hospitalised and is receiving medical care. We ask for your understanding that we cannot give a running commentary on his state of health.
"He was wearing a helmet and was not alone.''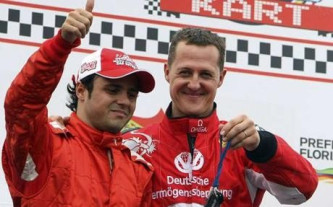 The seven-times world champion owns a chalet in the Meribel resort and is known to be a keen skier.
He has been hurt seriously once before, in a motorcycling accident in February 2009, when he suffered neck and spine injuries.
He recovered sufficiently from those injuries to make a comeback to Formula One in 2010, but after a poor performance he retired from racing at the end of the 2012 season.
There have been several high-profile deaths as a result of skiing accidents in recent years.
Actress Natasha Richardson collapsed and died aged 45, several hours after a skiing accident in Quebec, Canada in March 2009.
The musician Sonny Bono died in January 1998 after a skiing accident in South Lake Tahoe, California.