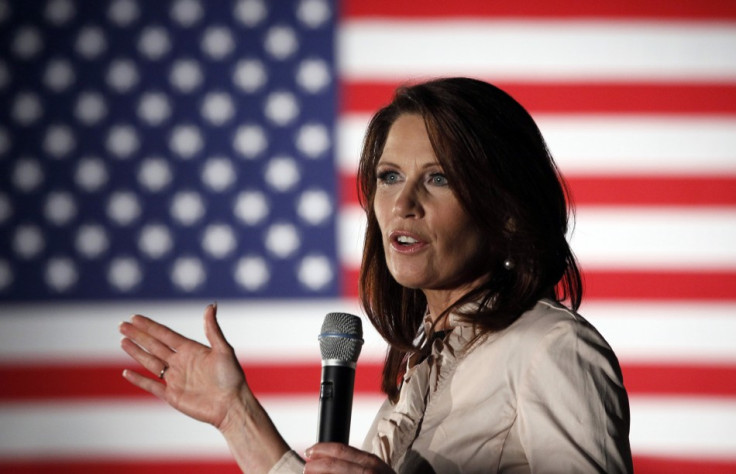 A mother of five from Iowa has emerged as one of the front-runners in the Republican race to take on Barack Obama in next year's US presidential election. So could Michele Bachmann end up in the White House, or is she just a new and more polished version of Sarah Palin?
Michele Bachmann, a Tea Party favourite and Minnesota congresswoman, is gathering a head of steam in her attempt to win her party's nomination next year.
The former tax lawyer formally launched her campaign on Monday, in her home state of Iowa, which hosts the first stage in the Republican contest in February next year.
An Iowa poll published in the Des Moines Register on Saturday places her alongside Mitt Romney at the head of the Republican field, well ahead of the rest. That's encouraging for her supporters -but the same poll in 2007 proved to be wildly inaccurate.
Many were impressed by Ms Bachmann's performance at a televised debate two weeks ago and her interview on Fox News over the week-end also won her more supporters.
Ms Bachmann said: "I'm 55 years old. I've been married 33 years. I'm not only a lawyer; I have a post-doctorate degree in federal tax law from William and Mary."
She added: "My husband and I have raised five kids; we've raised 23 foster children. We've applied ourselves to education reform.
"We started a charter school for at-risk kids. I've also been a state senator and member of the United States Congress for five years."
Ms Bachmann positions herself as the republican alternative to President Obama as just like him she has a strong academic background. Moreover by focusing on her achievements both in her career and personal life, she clearly wants to emphasises on her on 'yes we can' attitude to life. As she openly talked about her earlier struggle, being brought up by a single mum, she hopes it will help her connect with the American public. She was born in Waterloo, Iowa, to Democrat parents of Norwegian descent, but she was brought up by her mother in Anoka, Minnesota, with three brothers, after her mother's divorce.
Aged 16, Michele Bachmann discovered God when, in her own words, "people were coming to the Lord left and right." She also once said that God had directly talked to her and asked her to run for congress.
After graduating from law school in Oklahoma, she studied for a degree in tax law in Virginia and later worked for the Internal Revenue Service for five years and then left her job to become a full-time mother when she had her fourth child, before pursuing a political career.
Her hard-working background and religious stand is set to mark high score amongst her conservative audience. She also is the only woman in the race, is not scared to put her point of view across and has managed to impose herself as a potential presidential candidate.
However, being a conservative mother with strong opinions and a native of a northern, snowy state has a familiar ring to it and is not the only common points Bachmann shares with Palin.
While many praise her, there also have been several gaffes, which have already tarnished her credibility.
While in New Hampshire recently, the politician told an audience, "You're the state where the shot was heard around the world at Lexington and Concord", while the 1775 battle was actually fought in Massachusetts.
She also recently implied that the founding fathers worked tirelessly to end slavery, and told a confused audience "The very founders that wrote those documents worked tirelessly until slavery was no more in the United States."
Of course she was harshly criticised for her distorted vision of history, but what is perhaps even more disturbing is the distorted image of America that Bachmann recurrently projects. While she has in the past accused Obama of having anti-American views, it seems that she envisions the U.S as a country where everyone goes to church, everybody has a job and everybody shares the same civic and religious values.
She even recently claimed that "The utilisation of the Bible to tell you what's constitutional and what isn't."
There is thus no acknowledgement of the multiculturalism of the U.S and no space to discourses or experience that do not fit the archetype of the 'good worker, good Christian, good American'.
Bachmann is also yet to come up with a strong economic plan as until now she has failed to explain how she would solve the economic problems or wind down the wars that Obama inherited from the Bush Administration, but instead focused on insisting that the Tea Party is not the "right wing of the Republican Party."
"We're people who simply want America back on the right track again," she said.
If she is chosen to run as the presidential republican candidate Bachmann will need more than that to be considered as a credible alternative to Obama. However proving that the president's administration has its eyes on her, a statement released on Monday said: "Bachmann talks about reclaiming the American Dream but her policies would erode the path to prosperity for middle-class families."