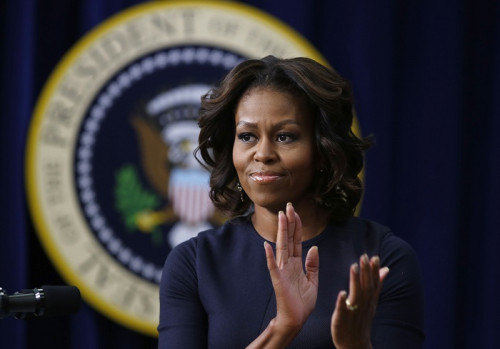 US First Lady Michelle Obama is preparing for her 50th birthday celebrations on Saturday – an event that has been billed as the hottest ticket in town.
Mrs Obama turned 50 on Friday and will mark the event with a lavish event at the White House which will reportedly feature a bill-topping performance from Beyonce.
Celebrations to mark the First Lady's birthday included an extended holiday in Hawaii with her friends last week, topped off by a party thrown in her honour by Oprah Winfrey.
White House aides are keeping a tight lid on details of the celebrations to maintain an element of surprise but guests have been told to come prepared to dance and eat before they come to the event, which is being referred to as "Snacks & Sips & Dancing & Dessert".
The event is expected to last from 9pm until midnight and the invitation reportedly prohibits the use of cameras during the celebrations.
Valerie Jarrett, a senior White House adviser close to the Obamas told the Associated Press: "Her husband has been spending a lot of time and energy planning it. He's so excited and he wants to make sure that the celebration she began in Hawaii continues through the weekend.
"There's one thing I can tell you for sure – people will move."
Mrs Obama proudly showed off her AARP membership card to her 631,000 Twitter followers on Friday, commenting: "Excited to join Barack in the 50+ club today ... check out my @AARP card!"
AARP is a US-based interest group formerly known as the American Association of Retired Persons.
When asked about turning 50, Mrs Obama told Parade magazine: "I have never felt more confident in myself, more clear on who I am as a woman."
President Barack Obama, who turned 50 in 2011, made reference to the birthday celebrations in a recent press conference.
"I've got to get back because somebody is having a birthday today," he said. "I've got to make sure I pay them some attention."
The Obamas' inauguration after party in 2013 was attended by a host of well-known personalities, including Katy Perry, Alicia Keys and Janelle Monae.