Michy Batshuayi will not be sent on loan during the upcoming January transfer window Antonio Conte has confirmed. The Italian manager says that will be a failure for the club and the manager if the striker is shipped off to another club to adapt to the Premier League.
The 23-year-old forward signed for the Blues from Marseille in a £33m ($40.5m) deal in the summer but is yet to start a game in the league. He has made the match day squad for all 18 games thus far, but all his 11 appearances have come from the bench and has yielded one goal, which was against Watford in August.
West Ham United tried to sign Batshuayiin the summer and were plotting a loan move for the Belgium international but are likely to be denied the opportunity by Conte's keenness to keep him at Stamford Bridge. The former Juventus manager is confident that Batshuayi will prove his potential, but has asked for time until he adapts to the league and Chelsea's style of play under their new manager.
The Belgian forward's frustrations would have intensified after he was left out of the starting lineup for their game against Bournemouth on Boxing Day despite Diego Costa being suspended. Conte decided to play Eden Hazard as a false number nine with Batshuayi only coming on as a substitute in the final seconds of the game which the Blues comfortably won 3-0.
"Because this player is a new player for Chelsea and to go on loan now is a defeat for the club and above all for me," Conte said, as quoted by The Times.
"I think that Michy Batshuayi is a really good player. But he's young and he's trying to adapt to this league, this football. I'm sure Michy could [have] the possibility to show his talent in the future.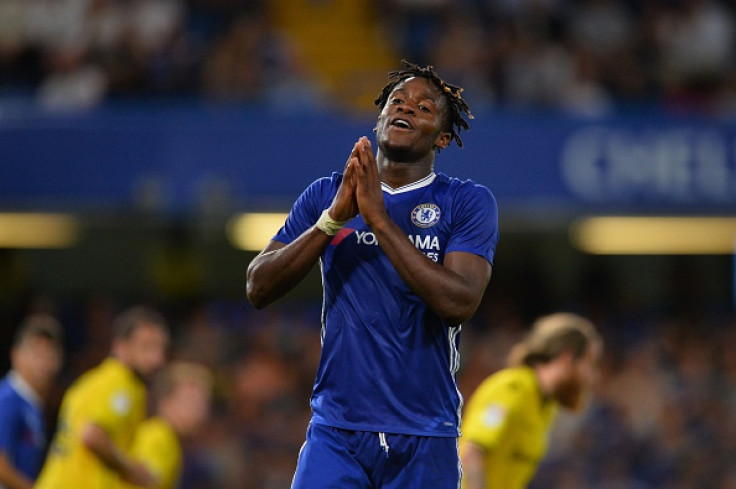 "Today, I wanted to give him the opportunity to play and to have another appearance this season. It happened at the end, but I think that we have to continue to work with him every day to try together to improve him. Every decision I make is because I want to win and I have to take the best decision," the Italian coach added.