The Microsoft Band costs $199 and combines the features of a fitness tracker with those of a smartwatch - and will even tell you when you are feeling stressed.
The Band is Microsoft's first foray into the wearable tech market with the wrist-worn device featuring 10 sensors which will monitor everything from steps counted, heart rate and calories burned to more unique measurements like its UV sensor to remind you when to put on suncream and a "galvanic skin response measurement" which will be able to let you know when you are feeling stressed.
While primarily focused on health and fitness tracking, the Microsoft Band also includes a number of smartwatch features, including getting alerts for in-coming calls, messages, social media updates and email.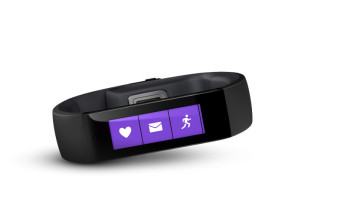 The alerts are delivered on the 1.4in screen which has a resolution of 320×106 pixels. The Band features a tiny 100mAh battery which Microsoft says will give customers 48 hours of normal use. Charging is done through a magnetically attached charger and the band will come in three sizes so should fit most wrists.
Cotana integration
Cortana, the company's voice-activated personal assistant has also been incorporated into the device, meaning you can interact with it without having to get your phone out - though this will only work with Windows Phone devices at the beginning.
Cortana will also allow users to record notes and set reminders about their workouts.
To collate all the data collected by the Band, Microsoft has also launched its new Health app, which will be available across all platforms including Windows Phone, Android and iOS.
The Health app however is part of a much bigger push to monitor people's fitness by Microsoft, and features a cloud service which, as well as recording your movements, will offer up suggestions such as how long you might been to recover from a workout.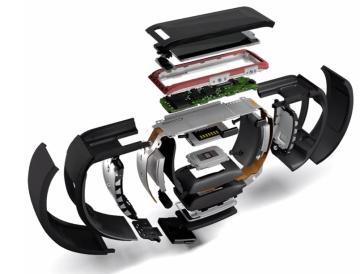 Microsoft's Health platform is going to be open and will work with a range of third-party apps as well as different devices like the Jawbone Up. Microsoft is clearly pushing to become a central source for people's fitness tracking even if they move to a different smartphone.
The wrist-worn device is available now for $199 in the US though Microsoft warns there is only limited stocks available. IBTimes UK has asked Microsoft for a UK price and release date, but the company said details of availability here have yet to be confirmed.
The Microsoft Band is launched just a month after Apple unveiled its Watch, though that is primarily a smartwatch with some fitness features included. The Watch will go on sale in early 2015 and will cost from $349.
As well as Apple and Microsoft, the smartwatch/tracker market has exploded in the last 12 months. Samsung, Sony, LG and Motorola have all launched smartwatches running Google's Android Wear while fitness trackers from Jawbone and Fitbit continue to dominate the tracker market.