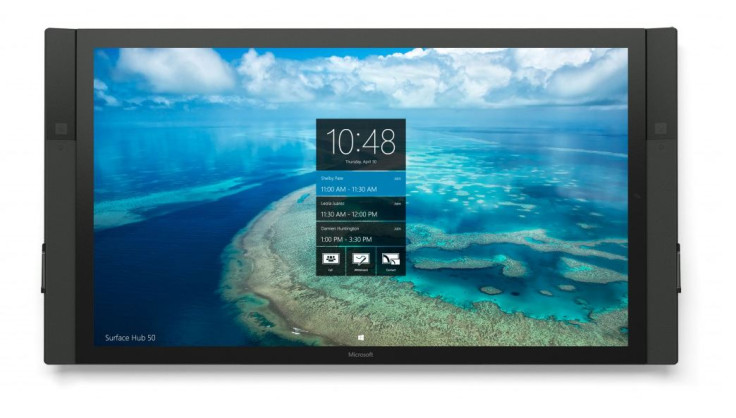 Microsoft has begun Windows 10 Anniversary Update for its large multi-touch display Surface Hub, which was made available for business customers in March this year. The update, available via Windows Update, is being released in stages and is expected to reach all users by early November.
This Anniversary Update brings notable improvements over inking and content sharing experiences. Microsoft has now extended the support of inking to services such as Word, Excel and PowerPoint, which means people can now use a pen directly on their Word docs or Excel sheets on the Surface Hub. In addition, there is a new toolbar, Draw, added in the ribbon with a variety of inking tools.
It is now possible to use both pen and touch when multiple people are working on the Hub. This feature is even available for several apps. Surface Hub allowed users to send whiteboards to meeting participants via email or OneNote. The Anniversary Update now lets users to sign-in, save and recall whiteboards directly from OneDrive.
Another important feature in the update is it adds support for third-party devices, so that users can now configure audio, video and microphone according to their choice. Microsoft says its engineering teams have successfully tested third-party devices such as BiAmp TesiraForte CI, Jabra 810, Logitech Group, Logitech PTZ Pro and Polycom CX5100.
Here are a few additional features:
PowerBI, OneDrive, Photos are now preloaded apps on the Surface Hub
Flash support for Edge
Skype for Business improvements, including support of Video Based Screen Sharing (VBSS) for improved content sharing, meeting call reliability improvements, video and gallery interface improvements and bug fixes and meeting join performance improvements
User Interface (UI) and Experience (UX) optimisation to have the most common Surface Hub settings in one place
Additional support for IT-based management and deployment via Intune
Added support in Imaging and Configuration Designer (ICD) for the Surface Hub Configuration Service Providers (CSPs). This allows customers to configure several Surface Hub settings using provisioning packages after Out-Of-Box-Experience (OOBE)
Improved Surface Hub Log Analytics solution on Operations Management Suite (OMS), giving a clearer view of issues to monitor and recommended remediation
Enhanced documentation about support for Windows Update for Business, allowing admins to control and stage Windows updates
Support for replicating High-bandwidth Digital Content Protection (HDCP) protected video content onto external monitors.
The announcement about the release comes directly from Julia Atalla, senior director of Surface Marketing, who said the demand for the whiteboards, which are available in two screen variants 84in and 55in, is quite strong. So far Microsoft has shipped the devices to more than 600 customers belonging to a wide range of businesses and industries including health care, manufacturing, automotive, consulting, defence, finance and education in 24 different countries.