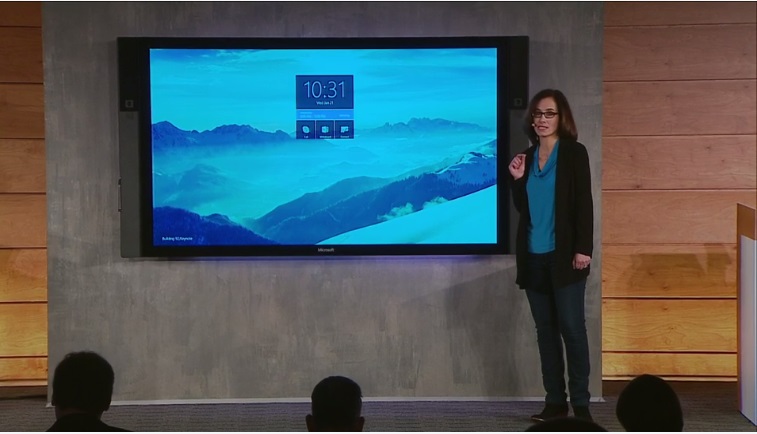 Microsoft has announced the Surface Hub, a huge 84in touch screen display with 4K resolution and stylus support.
The screen is intended to be used as a next-generation whiteboard, but behind this basic function the Hub runs a full build of Windows 10, complete with applications optimised for the massive screen.
There's pinch-to-zoom like on a smartphone or tablet, two apps can be lined up side-by-side and everything can be annotated - or captured and saved or shared elsewhere.
Microsoft says it takes an average of 12 minutes to start an office meeting, so to speed this up the Surface Hub can be used to host a Skype call with its integrated camera. Skype video of each colleague appears on the edge of the screen, while the majority of the space can be used as a whiteboard which every participant can see.
Alternatively, you can run a presentation, open a website or show any Windows 10 app - everything on screen can be seen by all people in the virtual meeting.
For colleagues in the same room and on the same Wi-Fi network, everything shown on-screen is beamed immediately to their Windows 10 device, be it a smartphone, tablet or computer.
Meetings can be closed with one tap, and doing so sends everything done on the screen during the meeting to everyone who took part, using OneNote.
Microsoft didn't say how much the Surface Hub costs, but we expect it to be very expensive indeed.