Microsoft Surface Book review: Is this shape-shifting laptop the ultimate all-in-one?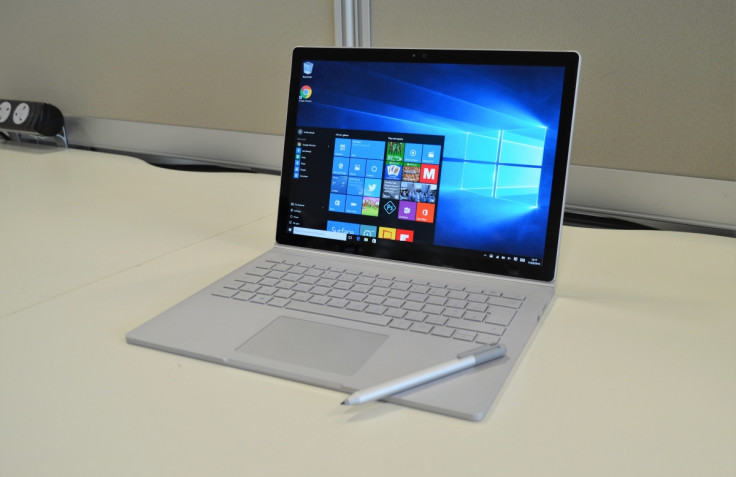 Try as they might, tablets cannot truly replace laptops. Their lack of ports, power and stability leaves us in a situation where we can look at a gorgeous screen but struggle to interact with it as naturally and as comfortably as we do a laptop.
Even the iPad Pro, with Apple's optional keyboard and stylus, can't hide its tablet origins.
But the Surface Book aims to be different. This is the other half of Microsoft's pincer movement to breathe fresh life into the laptop market; while the Surface and Surface Pro are tablets doubling as laptops, the Surface Book is a laptop which can become a tablet.
This is also, surprisingly, Microsoft's first ever own-brand laptop – and with its good looks drawing an immediate comparison to the Apple MacBook, it's going to need all the beginner's luck it can get.
---
I hadn't even logged into my Microsoft account before a colleague thought I was using a new MacBook. This will probably grate with Microsoft, but I'd take it as a compliment; it really is a pretty looking thing, its slim magnesium body speaking the same design language as the Surface range without copying Apple too closely.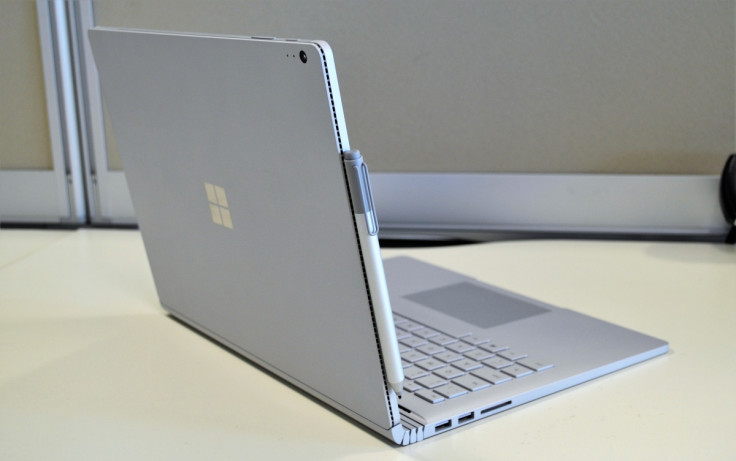 Perhaps the most obvious design quirk is the hinge, which is claimed by Microsoft to lengthen the base of the laptop when it is open, shifting the centre of gravity and making it feel less top-heavy. This may sound like over-engineering, but it addresses a frustrating and widespread problem with most tablet/laptop hybrids, in that by cramming everything into the screen and making it detachable, the extra weight high up makes typing on your lap difficult.
The Surface Book prefers to be sat on a desk, but it's still the best hybrid I've ever used. You completely forget the Surface Book is a tablet and, weirdly perhaps, that's a good thing. So far, so much a laptop replacement.
Windows 10
The laptop theme continues when you start using Windows 10. Long gone is the halfway-house disaster which was Windows RT, an operating system for the Surface which looked like Windows, but barely did anything. No, this is proper Windows and exactly the same as what you get on regular computers and laptops.
Windows 10 looks gorgeous on the 3,000 x 2,000 pixel screen, but as with other tablets running PC software, the huge pixel count can make some text and icons appear quite small. Tapping some with your finger can be a hit-and-miss experience, but switching to 'Tablet mode' addresses this, by replacing the regular Windows user interface with one better suited to touch.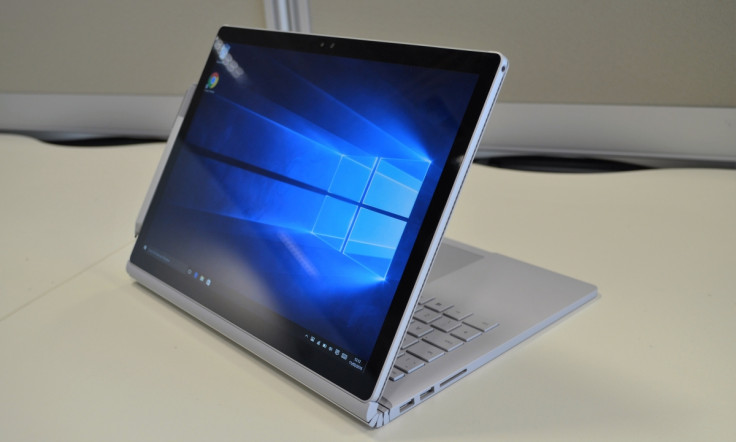 Naturally, an Intel Core i7 processor with 16GB of RAM gives this review unit incredible performance, aided by an Nvidia GeForce graphical processing unit hidden inside the keyboard dock. But even the base model has a Core i5 processor and 8GB of RAM, so a lack of everyday performance shouldn't be an issue.
While I'm talking spec, storage options are good too. The Surface Book starts at 128GB, while 256GB and 512GB options are also available; remember, the iPad Pro starts at 32GB and only stretches to 128GB.
It's cool to be square...some of the time
If the Surface Book looks unusual to you, and not just because of the hinge, then it could well be the screen's 3:2 aspect ratio. This makes it taller than most other laptops and means when browsing the web you can see more and scroll less. You get small black bars at the top and bottom when watching anything shot in widescreen, but the pros here far outweigh the cons because this 13.5in screen feels like it offers much more space than my 13.3in MacBook.

Where the Surface Book falls slightly behind the MacBook is with its keyboard and trackpad. They are both very good – excellent compared to most other Windows laptops – but a lack of vertical movement makes typing for long periods uncomfortable. The trackpad also isn't perfect, because while the glass finish makes it feel lovely and smooth, it isn't quite sensitive or predictable enough when you first touch it. There is an annoying moment where it doesn't respond.
These are not the only ergonomic problems. The Surface Book is frustratingly difficult to open (it is almost impossible with one hand), is quite heavy at 1.58kg, and that clever hinge leaves the top of the keyboard exposed to dirt and crumbs in your bag.
I also don't like how the power button is on the outside, where it can be accidentally pressed and the laptop turned on or off. One one occasion the button was pressed in my back, shutting down the Surface Book, which then ran a 'scanning and repairing' process to check nothing had been damaged. More frustration came from the Surface Book not waking up when you open it; you must open then press the power button, even when it's only asleep. Waking up and showing the login screen sometimes took up to 10 seconds.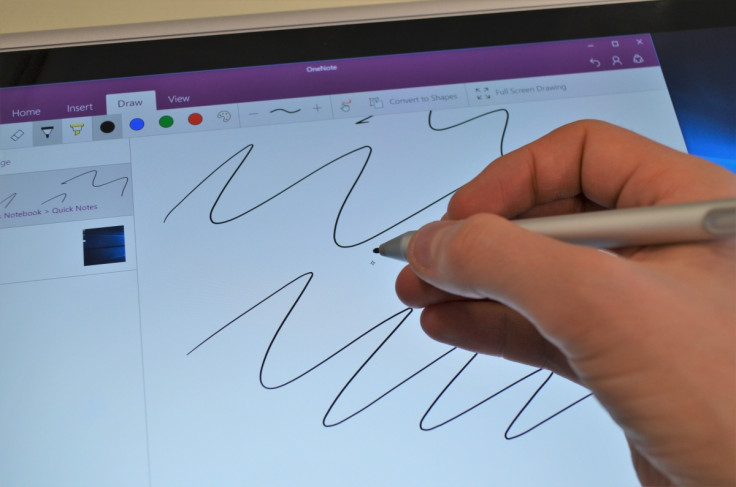 Frustrating
As you can probably tell, I wasn't blown away by the Surface Book. I really wanted to love it and say I'd buy one instead of my MacBook Pro, but the more I used it, the more I discovered these small but annoying issues.
In better news, I really like the included Surface pen stylus. It has a lovely weight to it and feels natural when writing or sketching on the screen. A click of the pen instantly opens OneNote, where you can jot something down. Two clicks takes a screenshot, which you can crop and annotate. The whole experience feels incredibly natural, made better still when you detach the screen and hold it like a clipboard, or turn it around, reattach and close to create a sketchbook propped up at a nice angle.
Opened in this configuration, the Surface Book is perfect for Netflix in bed marathons where the keyboard and trackpad get out of the way and the speakers provide decent volume and quality. It will also get you through serious chunks of your favourite new series without needing the charger. As a laptop, I found the Surface Book got close to Microsoft's claim of 12 hours' battery life, while the screen on its own can manage a slightly disappointing three hours.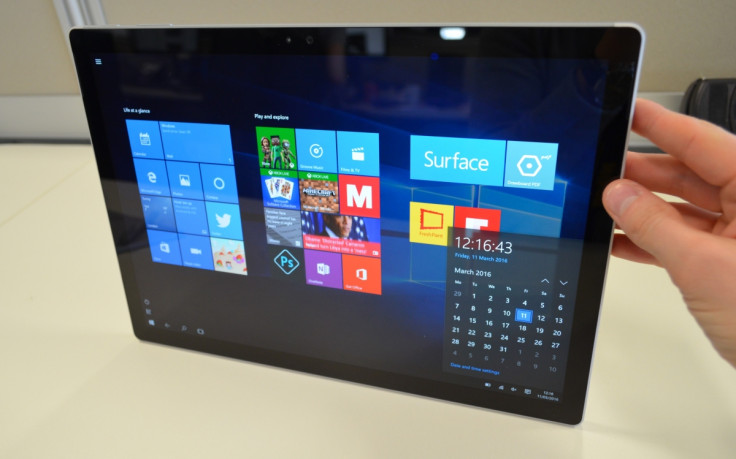 Value
I've tried and failed to sugarcoat this, so I'm just going to say it; the Surface Book is expensive. It starts at £1,299 and for that you get an i5 processor, 128GB of storage and 8GB of RAM. An extra £300 adds an Nvidia GeForce graphics processor into the keyboard and doubles the storage.
For £1,799 the processor upgrades from i5 to i7, then for £2,249 you get the flagship model, which has 512GB of storage and 16GB of RAM.
An equally-sized MacBook Pro with Retina display starts at £999 and comes with an i5 processor, 8GB of RAM and 256GB of storage. The top-end model with an i7 processor, 512GB storage and 16GB RAM costs £1,729. In short, the Surface Book's touch screen, stylus and hybrid configuration add a sizeable premium to an already expensive laptop.
Microsoft Surface Book
(7/10)
I really enjoyed using the Surface Book and was happy to ditch my MacBook for a week to try something new. It's a stylish laptop which is versatile and works well as a tablet, drawing surface and a tool for Netflix marathons. But its high price and small but frustrating problems are a concern.
Make no mistake, this is a very, very good first effort from Microsoft and it gives the barely-moving laptop market a breath of fresh air. Version one is never perfect – look at the iPhone or the first MacBook Air – but Microsoft has given it a good go and has produced an excellent laptop.
Version two will fix the small issues I have with it, then hopefully version three will drop the price. Until then, I fear the lure of a cheaper MacBook Pro with years of refinement behind it will be too strong for all but the most passionate would-be Surface Book buyers to ignore.
Scores:
Design: 8/10 - Unique and stylish, the Surface Book is beautifully made, but not without shortfalls
Screen: 9/10 - Gorgeous. Very little to fault here, although some might not like the squarer design
Software and performance: 8/10 - Very good performance and the full Windows 10 experience, but with some small bugs to iron out
Value: 6/10 - High performance and unique design comes at a very high price, even for the entry level
The Good
Interesting and practical design
High build quality
Beautiful screen
The Bad
Expensive
Difficult to open
Short battery life with keyboard detached
© Copyright IBTimes 2023. All rights reserved.