Interdealer broker ICAP has completed a proof of technology test of a distributed ledger using blockchain technology, carried out by its post-trade risk and information (PTRI) division.
ICAP said in a statement that its PTRI-distributed ledger proof of technology leveraged the multi-asset messaging and matching Harmony network and blockchain infrastructure provided by Axoni, a New York-based technology firm.
The proof of technology, completed on 26 February, created a private, peer-to-peer, distributed ledger network using smart contracts.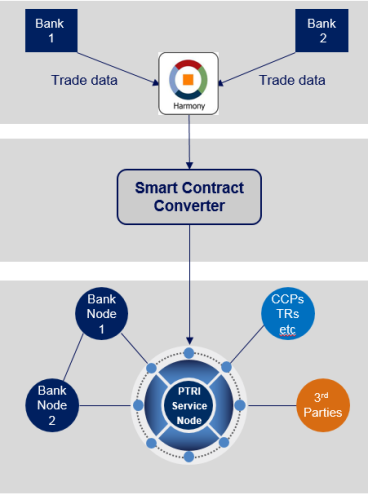 "Axoni's unique implementation of blockchain technology is proven to provide complex life cycle automation, transactional privacy, sufficient processing of trades to support high-volume markets, automated reporting, and a dynamic permissioning system to onboard new network participants.
"Tested using bilaterally executed spot/forward foreign exchange block trades, the PTRI division imported matched messages from Harmony and converted them in real time to blockchain-based smart contracts.
"The smart contracts were then distributed to nine representative participant nodes on the blockchain network, where trades were permissioned for additional services such as valuation, compression and reporting," said ICAP in statement.
ICAP said the proof of technology demonstrated the potential to
provide a common golden source of user transaction and reference data cross asset;

enrich and enhance the accuracy and timeliness of data by users and attach further information;

continuously update copies of the data to be stored locally on users' servers;

securely code messages to be viewed only by permissioned participants;

reduce operational risk and improve reconciliation and operations processes; and

realise multiple back office and technology cost savings.
The company added that the technology test was focusing on the distribution of data and not the agreement and settlement of bilateral transactions, and building on existing PTRI solutions and not challenging the fundamental role of participants. This would entail "operating safely in parallel with existing architecture which does not require an immediate switch-over".
Over the coming months, the PTRI business will discuss with participants how they can access the new golden data source and start work to realise technology savings in disparate systems, it said.
Jenny Knott, CEO of ICAP's PTRI services division, said:"In successfully completing a proof of technology test, ICAP has demonstrated one of the first real world applications of distributed ledger technology that has the ability to significantly transform the post trade landscape. Realising the value of ICAP's unique portfolio of PTRI businesses and investee companies, we have combined our expertise, networks and technology with Axoni's distributed ledger technology to push the boundaries of post trade innovation."
"Partnering with ICAP was an easy choice," said Greg Schvey, CEO of Axoni. "There's no shortage of demand for distributed ledger projects. ICAP's thoughtful consideration of where this technology can be most valuable, its ambitious deployment objectives, and market-leading client reach offer a high probability of success when combined with Axoni's advanced blockchain infrastructure."
ICAP and Axoni were brought together via Euclid Opportunities, ICAP's early stage funding programme for fintech companies.