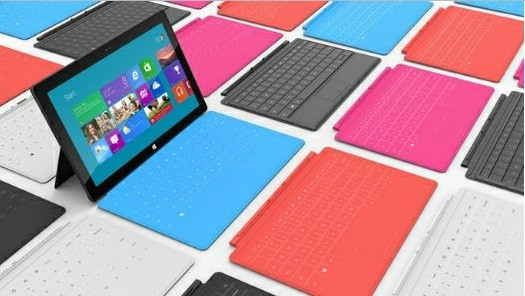 Microsoft's recently unveiled Surface series tablets - for Windows RT and Windows 8 Pro - were unveiled in 18 June and will go on sale without connections to mobile carriers, according to Bloomberg. The Surface tablets will be equipped with a Wi-Fi short range connection and set to go on sale this fall.
This is contrast to the Apple's iPad - the third generation of which was launched in March - which offers a cellular connection called Long Term Evolution (LTE). However, Apple does also have a Wi-Fi only iPad. However, according to a report in the Los Angeles Times, the tablet, "complete with Office, is touted as fully-functional as a Windows desktop, with specs that rival many ultrabooks on the market today, including the latest Intel CPU. Surface has the standard front and rear cameras".
"Wi-Fi models are the larger part of the market right now and Microsoft's decision may enable it to keep costs down. Still, it could curtail the company's efforts to promote Surface as a device you can use anywhere and in any way," said Ben Bajarin, an analyst at technology consulting firm known as Creative Strategies.
"The way that Microsoft is positioning this product-that is highly mobile but also has the functionality of a notebook-that customer might be more interested in working from any location and not being bound by Wi-Fi," Bajarin added. Meanwhile, Carolina Milanesi, an analyst at Gartner, stated that since a majority of tablet consumers were using the device at home or wherever they are had access to Wi-Fi, this may not prove to be a problem for Microsoft.
In any case, the tablets feature a 10.6in ClearType display and include an integrated Kickstand, Touch Cover and keypad. Surface for Windows RT will be powered by an ARM processor while the Windows 8 Pro model will run on a third-generation Intel Core processor. Surface for Windows RT will offer a choice of 32GB and 64GB of storage space. The second model will double that amount, offering either 64GB or 128GB of space. Microsoft has yet to provide information on price and battery life.
A report in the Los Angeles Times added that Microsoft representatives refused to comment on the launch of 3G versions, saying they had nothing to add beyond the information available on the tablet's Web site and the press release.