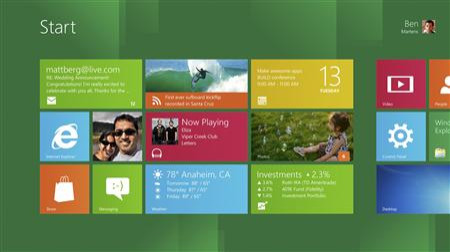 The latest version of Microsoft Corp.'s computer operating system - Windows 8 - which is believed to be suited for desktops, laptops and slates - is set to go on sale sometime around October, according to a report by Bloomberg. The new OS will be introduced for both Intel and ARM devices.
The information in the Blooomberg report comes from sources who wished to remain anonymous since the plans are supposedly confidential. However, the sources did also reveal that in adopting ARM technology, Microsoft will resort to using similar processors as Apple's iPad. There will, however, be only five ARM devices to worry about. The majority of the roll-out is set to happen on Intel-run machines.
"If they miss the September-October time frame, they are going to be stuck without being able to ship anything in 2012. The last thing Microsoft wants to have is a situation where there are no compelling Windows tablets at a time when the new iPad looks like it's going to be a good seller for the holidays," said Michael Gartenberg, an analyst at Gartner Inc.
The sources did also add the company will host an event for its industry partners, sometime in early April, when Microsoft will announce release timings for the OS, with all details.