Microsoft has unveiled its next generation mobile phone operating system, Windows Phone 8 with support for more diverse hardware as well as more flexibility for app developers, but current Windows Phone 7 phones won't be eligible for the update.
Key Features:
All-new homescreen offers as many tiles as you like, in any sizes
WP8 shares the same core code as Windows 8
Windows games can easily be ported to WP8
NFC and mobile wallet offer "most complete wallet experience on any smartphone"
Offline maps abvailable from Nokia with turn-by-turn directions
Multi-core processor support
Multiple screen resolution support
Available: Autumn 2012
Microsoft has shown off eight features of its upcoming Windows Phone 8 mobile operating system, which will run on the same core system as Windows 8 for PCs, laptops and tablets.
By using the same core code and architecture, developers who create applications and games for Windows 8 can easily port them over to Windows Phone 8, and visa versa.
Game developers in particular will benefit from being able to port a copy of their PC game right over to Windows Phone 8 (WP8), paving the way for a mobile operating system with incredibly powerful and advanced games.
The company also claims that games developed for iOS and Android can also be easily ported over to WP8.
WP8 will be released in the autumn - around the same time as Apple's iOS 6, which IBTimes UK recently reviewed - and will go head-to-head with latest iPhone operating system.
Windows Phone 8: New Home Screen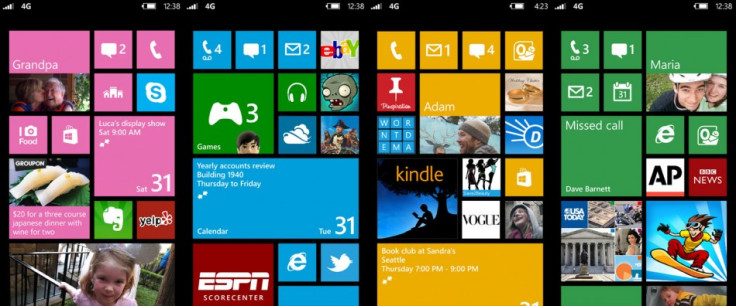 Microsoft showed off eight features of Windows Phone 8, and along with how the core code is shared, we also got to see an all-new home screen, keeping the tiled theme of Windows Phone 7, but allowing the user to alter the size and location of every tile.
This means that users can arrange their tiles however they like, and have as many or as few tiles as they want; all tiles are still live and constantly update automatically with new information.
Users who, for example, prefer text to email can prioritise one over the other, and can even take an important contact - such as their husband or wife - and give them a large tile at the top of the home screen.
Windows Phone 8: NFC and Mobile Wallet
Of the eight features, Microsoft also announced that all Windows Phone 8 devices will support NFC and will be able to communicate through the contactless technology to all Windows 8 devices too, including PCs, laptops and tablets - as long of course as those devices are also NFC enabled.
Giving NFC chips to all Windows Phone 8 devices paves the way for another key announcement - Microsoft is entering the mobile wallet market (or 'slates' as Microsoft calls them).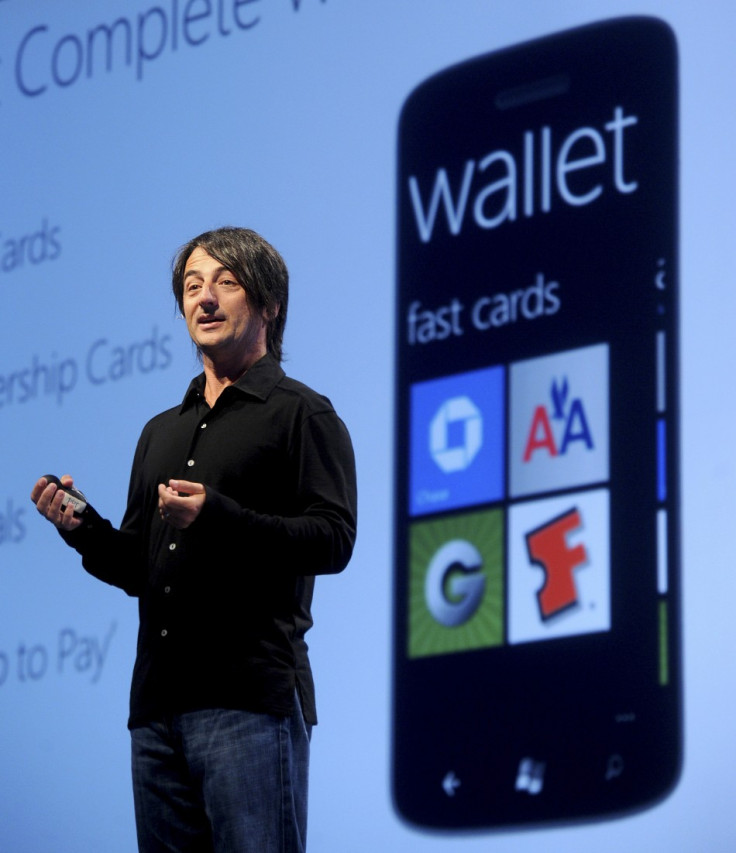 In what it describes as "the most complete wallet experience on any smartphone" Microsoft has teamed up with mobile networks to offer secure SIM cards to help build an increased level of security around the NFC-powered mobile wallet.
Microsoft has initially partnered with Orange and said that it is currently in talks with many other networks worldwide to provide the new secure SIMs.
The company admitted that only Orange will be supplying secure SIMs in time for WP*'s autumn launch, but promises that more will be added later.
The mobile wallet in Windows Phone 8 supports credit and debit cards, loyalty and membership cards, deals and supports tap-to-pay over NFC.
Everything from bank cards and store cards to frequent flyer and PayPal accounts can be stored in the wallet. Under your credit card you can see available balance, phone numbers to call to speak to someone at the bank, and even a look at your transaction history.
The deals section of Windows Phone 8's mobile wallet is a collection of coupons from a huge range of retailers and service providers. In a demo, IBTimes UK were shown a deal card for a retail store, which appeared as a scannable QR code and showed information such as when the deal is valid to and where it can be redeemed.
Finally, the mobile wallet app in WP8 can use the bank cards stored in it to make purchases online using Internet Explorer 10 and the purchase of apps and app content on the phone.
Windows Phone 8: Maps
WP8 will feature maps provided by Nokia which can be viewed offline - so you can rely on having maps when you have no signal, or are abroad and don't want to incur large data roaming charges.
Maps works with the mobile wallet, with local deals showing up on the map - tap a deal in the Maps app and it will be added to your wallet.
The Maps app also features turn-by-turn navigation, so combined with storing maps offline this means that any Windows Phone 8 device can be used as a Sat Nav, doing away with the need for a standalone Sat-Nav unit - a move that will no doubt concern the likes of Garmin.
Windows Phone 8: Enterprise, IE 10, Upgraded Hardware
Due to not offering enterprise-level security and encryption of content, Windows Phone has not been adopted by companies looking to replace their employees' BlackBerrys.
WP8, however, features shared core with Windows to offer device encryption, secure boot, device management and Microsoft Office applications.
As alluded to earlier, WP8 will use Internet Explorer 10 as its browser, bringing with it all the security features found in its desktop equivalent, such as the SmartScreen anti-phishing filter.
Microsoft's also announced the support include for microSD card slots for all future smartphones, meaning internal storage can be upgraded by up to 64GB.
Also, WP8 offers three different screen resolutions, so hardware manufacturers can produce a variety of phones to suit varying sizes and budgets. These include the existing 480 x 800, as well as 720 x 1280 and 796 x 1280, both of which offer 720p high definition images.
Finally, Windows Phone 8 will bring support for multi-core processors, meaning that future Windows smartphones will be dual-core and above, a much-needed improvement over the current range of underpowered single-core devices.
Windows Phone 8: Availability and Release Date
Microsoft announced that it will be partnering with HTC, Samsung, Huawei and of course Nokia when WP8 is realsed in the autumn and all hardware partners will build their devices using Qualcomm processors.
HTC told IBTimes UK in a statement: "HTC is committed to Windows Phone more than ever and we are excited to be bringing new Windows Phone 8-enabled smartphones to customers later this year,"
Terry Myerson, corporate vice president of Windows Phone at Microsoft added: "HTC is one of our closest partners and we share a common goal in driving people-centric innovation, which makes it easy to work together. We can't wait to see how HTC brings Windows Phone 8 to its product portfolio".
In a statement sent to IBTimes UK, Graham Stapleton, COO at Carphone Warehouse, said: "What was once a battle of hardware between the manufacturers, has now become a battle of software. Both customers and developers can look forward to reaping the benefits in the coming months, as Windows Phone 8 brings some much needed variety and depth to the market."
Graham adds, "We will definitely be supporting Windows Phone 8 in line with the key manufacturers. There are some very exciting devices due this Autumn sporting the new operating system, and they will be fundamental to its success."