Global sales of smartphones have overtaken those of feature phones for the first time, taking 51.8% of the market according to data released by research firm Gartner.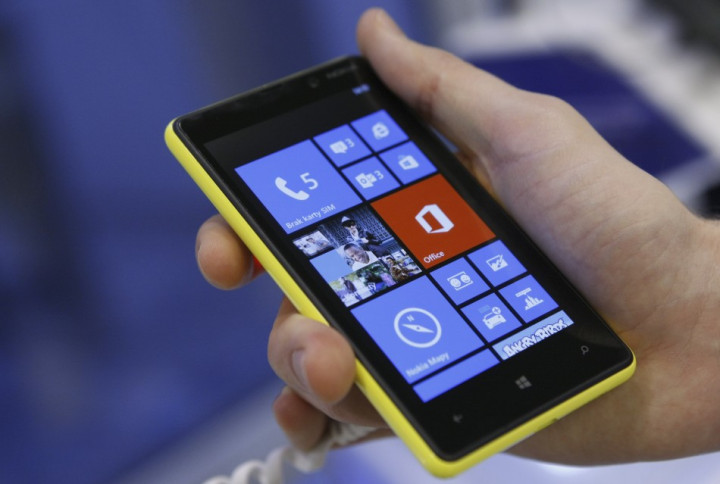 Of the 435 million mobile phones sold in the second quarter of 2013, 225 million were smartphones as sales grew 46.5% compared to the same time last year. Asia/Pacific, Latin America and Eastern Europe saw the highest smartphone growth rates of 74.1%, 55.7% and 31.6% respectively; smartphone sales grew in all regions.
The figures also revealed that Microsoft's Windows Phone operating system has overtaken BlackBerry in third place, as the Canadian company's decline in popularity continues despite a major rebrand earlier this year. BlackBerry this week announced it was suspending trading in its shares as the board weighs up the possibility of selling the company.
The data confirms research by IDC in May which also claimed Windows Phone had taken third place.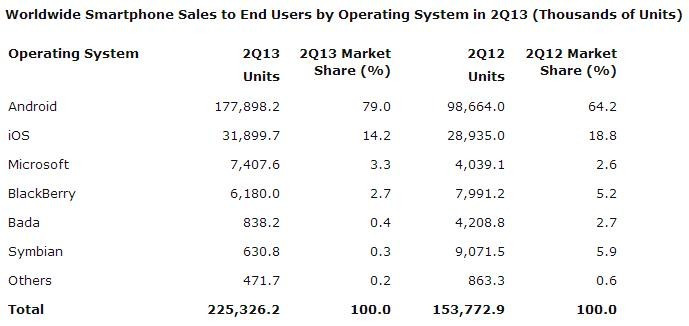 Decreasing
In the second quarter 7.4 million Windows Phone devices were sold, up from four million last year and responsible for Microsoft's market share growing from 2.6% to 3.3%.
This saw the Redmond, Washington company overtake BlackBerry, which fell to fourth place, its sales decreasing from almost eight million to 6.1 million and its market share almost halving from 5.2% to 2.7%.
Although good news for Microsoft, its software is still held back by a lack of applications developed for it compared with iOS and Android. Gartner analyst Anshul Gupta said the company "should continue to focus on growing interest from app developers to help grow its appeal among users."
Last month Nokia vice president Bryan Biniak told IBTimes UK that his company felt Microsoft needs to evolve its thinking about Windows Phone if it is going to be a success.
Android remained far-and-away the most popular smartphone operating system in the quarter, with 177.9 million sales accounting for 79% of the market, up from 98.6 million and 64.2% this time last year.
Second place iOS saw sales increase slightly from 28.9 million units last year to 31.9 million now, but surging growth by rivals caused Apple's share of the market to fall from 18.8% to 14.2%.
Cannibalisation
Apple is expected to announce a new iPhone 5S and budget iPhone 5C at a media event on 10 September, and while this will help boost sales, Gartner believes the cheaper model will steal attention from the more expensive flagship.
Gupta said it is "risky for Apple to introduce a new lower-priced model", adding: "Although the possible new lower-priced device may be priced similarly to the iPhone 4 at $300 to $400 (£190 - £260), the potential for cannibalisation will be much greater than what is seen today with the iPhone 4.
"Despite being seen as the less expensive sibling of the flagship product, it would represent a new device with the hype of the marketing associated with it."
As for sales by manufacturer, Samsung once again leads the way with 107 million phones sold, of which 71 million were smartphones. Nokia was second overall with 60 million, but remains outside of the top five for smartphone shipments alone. With feature phone sales falling and not expected to recover, Nokia will find itself quickly dropping down the leaderboard unless Lumia sales see significant growth.