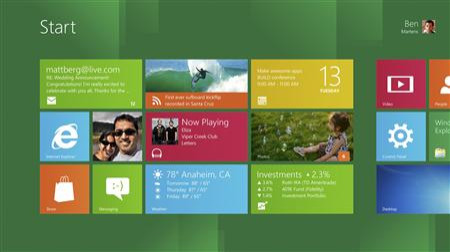 Microsoft Corp. has announced three different editions of its forthcoming Operating System - Windows 8. All three versions of the popular operating system software for a variety of computing devices will be available with its release.
The three editions are Windows 8, Windows 8 Pro and Windows RT.
The first two editions - Windows 8 and Windows 8 Pro - will be available for PCs and tablets powered by x86-based processors. These will feature an updated Windows Explorer programme and Task Manager, as well as better multi-monitor support and the ability to switch languages on the fly (previously available only in the Enterprise/Ultimate editions of Windows).
For other smaller emerging markets, a local language-only edition will be offered. Meanwhile, the second edition - Windows 8 Pro - was developed for tech enthusiasts and business or technical professionals. This edition carries all the features of the Windows 8, in addition to those like encryption, virtualisation, PC Management and domain connectivity. Moreover, Windows 8 Pro will have the Windows Media Center as an economical media pack.
The third edition - Windows RT - is new to the Windows family and was previouslty known as Windows on ARM or WOA. This version will be available pre-installed on PCs and tablets powered by ARM processors. This version will feature touch-optimised desktop versions of the new Microsoft Word, Excel, PowerPoint and OneNote. It also will feature a few new apps.
Interestingly, Windows RT will not be backwards compatible with older Windows application, whereas Windows 8 will be. This means no Windows 7 sofware will run on the new Windows RT.
Microsoft's Windows 7, which is the most recent edition in their Windows range, has six versions - Starter, Home Basic, Home Premium, Professional, Enterprise and Ultimate.
Finally, there is no information, as yet, about pricing for each version or release date. However, it does, at the very least, confirm that rumours surrounding the title of the next operating system will indeed be Windows 8, PC World reports.