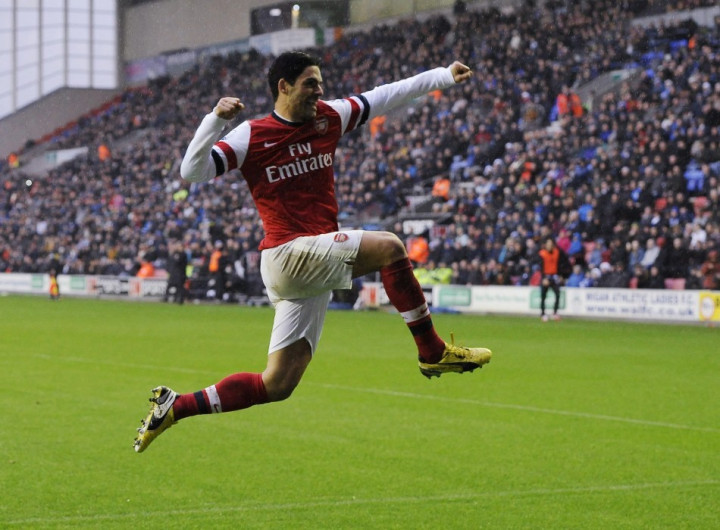 Mikel Arteta has admitted Arsenal "don't have a 30 or 40-goal" striker but believes midfielder Aaron Ramsey's clinical skills up front can help them cope without one.
Even though Arsene Wenger has splashed the cash this summer to sign Alexis Sanchez, Mathieu Debuchy, David Ospina and Calum Chambers, he is yet to secure the services of a number nine.
And with Yaya Sanogo struggling to score in both starting appearances in the Community Shield and the Premier League opener against Crystal Palace, there are still doubts about Arsenal's chances to win the title without a top forward.
Speaking to Arsenal's official website, Arteta admitted the lack of a top scorer is an issue but believes the squad has what it takes to deal with that.
"We don't really have a 30 or 40-goal player at the moment so to have players who can score from the middle of the park is very important," he said.
The Arsenal captain heaped praise on Ramsey after the Wales international scored the late winner against Crystal Palace while he also netted a goal during the 3-0 victory over Manchester City in the Community Shield.
"Aaron is on fire. When you have a player like that coming from midfield to score that many goals, it gives you something extra," he said.
"I think his confidence is really high at the moment. Physically he can do whatever he wants and technically he is in a very good state, so he is one of the most important players in the team.
The Spaniard even compared Ramsey with Cesc Fabregas and expects him to continue his progress during the new season.
"He reminds me a little bit of Fabregas when he was here. At his best, he was coming off the front, making the final ball and scoring very important goals," the captain said.
"I think he will get better with experience, with knowledge and confidence. People have a fear now with him because they know he can create things and that gives you an extra yard, which is very important.
"He has shown in the past two seasons how much he is able to improve, so I think he can do
even more."