Miley Cyrus has seemingly made her rumoured romance with Kellan Lutz official.
The singer was seen kissing the 28-year-old actor at a party in Las Vegas after attending the opening night of Britney Spears' Piece of Me show.
Cyrus didn't even try to hide her obvious closeness to the Twilight Saga star as she cosied up to him at the Beacher's Madhouse bash at the MGM Grand Hotel and Casino.
And it doesn't seem to matter that 28-year-old Lutz is friends with the singer's ex-fiancé Liam Hemsworth.
According to Us Weekly, the Bangerz singer is enjoying a fling with Lutz. The Twilight star "reached out" to Cyrus in early December. "The next day they hung out and they've been hooking up ever since," stated the publication."
The two young stars were spotted at an airport in mid-December after a vacation together in the Bahamas.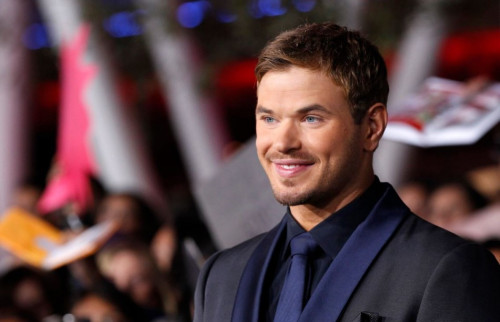 The 6'1" actor has recently got into shape for his January film The Legend of Hercules, a fact hat hasn't gone unnoticed by Miley. "He's nice eye candy for her," added the Us Weekly source. "It doesn't hurt that he's Liam's pal. But they do really enjoy each other's company. "
The liaison is evidently payback for Hemsworth, who reportedly began dating Eiza González immediately after he ended his engagement to Miley.
But Lutz wasn't the only one on the receiving end of Cyrus's affections.
The star, who is famed for twerking, demonstrated her trademark move for friend Cheyne Thomas, who played the 'slutty Santa' in her Jingle Ball routine.
She them moved on to a second, unnamed man at the party and proceeded to grind on him.
The flirtatious star was said to be enjoying the attention from her numerous male admirers.
Cyrus, who was 19 when she got engaged to Hemsworth recently stated that she didn't regret getting engaged so young.
"I don't think I realised what 19 truly is, and I got engaged at 19, and I definitely wouldn't change being engaged. It was so fun wearing a fat rock for a few years.
"But now, I just feel like I can actually be happy. I wait for those moments of silence, when I'm just at my house, by myself."
"I just believe that when a chapter is done, you have to close it and start that new one. That's kind of where I am right now. I felt like I have so much to be thankful for at this time that my energy hasn't really been focused on that," she added.
30 Rock actor Lutz previously dated 90210 actress AnnaLynne McCord and Sharni Vinson, star of Step Up 3D.
He was originally offered the lead role of Edward Cullen in the Twilight film franchise before Robert Pattinson, but turned it down.