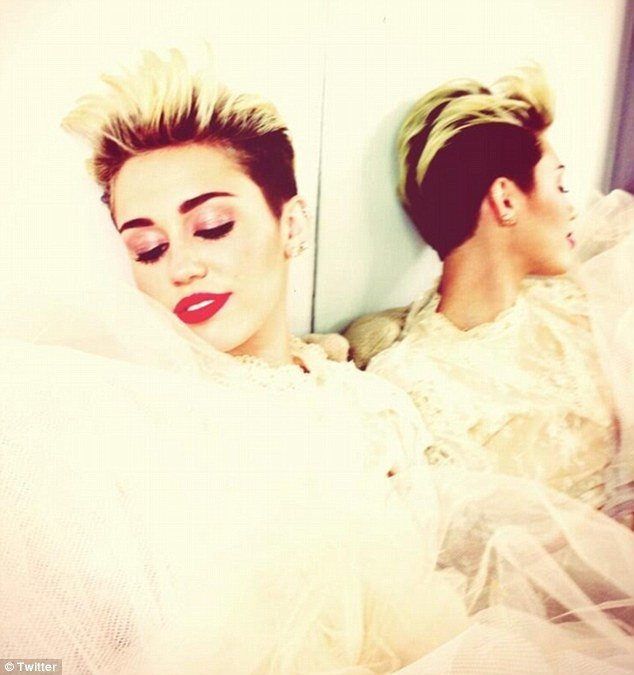 American singer and actress Miley Cyrus blissfully continues preparing for a wedding with fellow actor Liam Hemsworth, even as a growing number of sources confirm the 23-year-old Australian has called off the ceremony and broken up with his former beau. The 20-year-old has tweeted a photograph of herself in what appears to be a wedding-gown-inspired dress.
According to US Weekly, Hemsworth's brothers - Chris and Luke - convinced Liam to break off the engagement with the former Disney star. A source told the publication: "They are definitely over". However, the Mail Online reports the couple still share their Los Angeles home; they just sleep in different bedrooms.
"Miley is in denial - she still thinks that Liam is going to marry her, even though things have been so up and down," an insider told Hollywood Life, "She really doesn't want this to be over."
Miley Cyrus and Liam Hemsworth met on the sets of the Last Song in 2009 and he proposed to her with a 3.5carat diamond ring. Unfortunately for the couple, theirs has never been a very comfortable relationship, with rumours of break-ups and arguments an ever-present detail.
Meanwhile, with her relationship ended, Cyrus has reportedly sought comfort in Justin Bieber's company. The 19-year-old singer went through a similarly long-winded break-up with former girlfriend Selena Gomez. Cyrus and Bieber are working a single for the former's new album.
"I know pictures are flying around," Miley Cyrus told E! News, adding, "You guys will have to wait and see. I'm the biggest at top secrets. I've had this single ['We Can't Stop'] ready for about a year, and I've had to keep my lips sealed and just not saying anything. So you'll see."
"They really believed in me the whole time. I feel like this song really is for them and how I feel-that I can't stop and I'm going to be who I am and they should be who they are and that they can't stop and not one can stop us," Cyrus concluded, dedicating the song to her fans.
In other news, Miley Cyrus and Snoop Lion star in the video for the latter's newest single, Ashtrays and Heartbreaks. Check out the video:
[Video Courtesy: SnoopLionVEVO/YouTube]