Millions of Brazilians flooded the streets of cities around the country in the biggest ever protests calling for President Dilma Rousseff's resignation, reflecting rising anger that could encourage Congress to impeach her. According to police estimates, three million people took part in protests in 200 cities amid widespread anger over corruption investigations and the worst recession in years.
Polling firm Datafolha estimated there were 500,000 demonstrators in Sao Paulo, the biggest rally in the city's history. The military police put the figure at 1.4 million at the height of the demonstration. A sea of protesters wearing Brazil's yellow and green national colours chanted "Dilma out" and waved banners.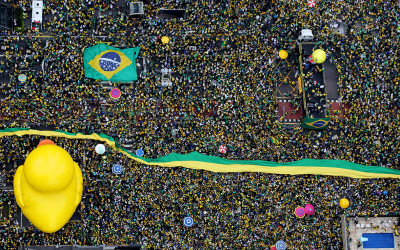 The rallies were led by middle-class Brazilians angry over growing allegations of corruption in Rousseff's administration. Poor Brazilians, who form the base of the ruling Workers' Party support, have not turned out in great numbers in recent protests. But their support for Rousseff has faded as unemployment rises and inflation climbs.
Many protesters voiced support for Sergio Moro, the judge overseeing the two-year-old investigation into a network of political kick-backs and bribes centred on state oil company Petrobras. The demonstrators took aim at politicians across the spectrum, including Rousseff's opponents, as they vented their frustration with a ruling class that has been widely exposed in the graft probe, known as Operation Carwash.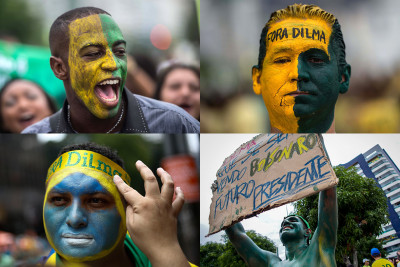 Rousseff, who insists she will not quit, is the latest leftist leader in Latin America to face upheaval as a decade-long boom that fuelled breakneck growth and social spending comes to an abrupt end. Ahead of the demonstrations, tensions were high after Sao Paulo state prosecutors requested the arrest of Rousseff's predecessor and political mentor, Luiz Inacio Lula da Silva, on money-laundering charges. A judge still has to decide on the request, which can be rejected. Lula was briefly detained for questioning on 4 March as part of an investigation into a corruption case involving the state-owned oil company Petrobras.