Mini Clubman Cooper S review: Can a grown-up Mini still be fun?
We review the Cooper S version of the new Mini Clubman estate.
NOTE: This article is a contribution and do not necessarily represent the views of IBTimes.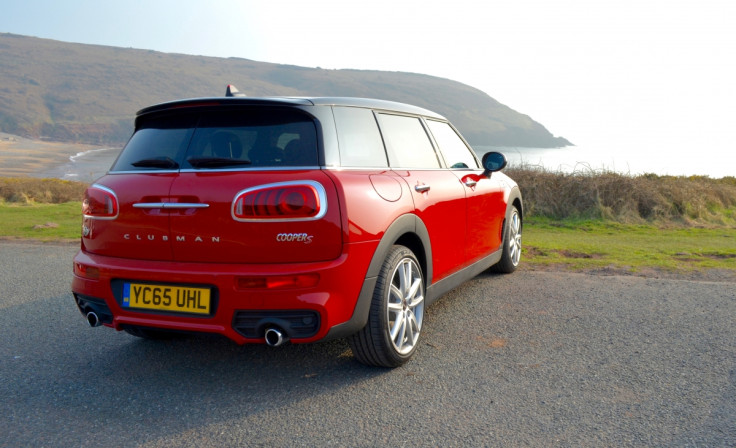 Key Features
Four cylinder, 2.0 litre turbocharged engine
189 horsepower and 206lb ft of torque
0-62mph in 7.2 seconds
142mph top speed
Priced from £19,965. Car reviewed here was £34,215
'The Countryman, wasn't it? No, yes, sorry, the Clubman. Yeah, Clubman Cooper S.'
After a quick glance at the current Mini range, you can hardly blame the deliveryman for getting the new Clubman confused with the Countryman. Larger than ever, the Clubman is the estate of the Mini range, fitting between the new five-door Mini and below the aforementioned Countryman, a sort of taller, mini-SUV thing.
Anyway, this is supposed to be the most grown-up member of the family. Not the biggest, but the most sensible and the one which fits neatly into more lives and families than any other. Based on the BMW 2-Series Active Touring (estate to you and me), the new Clubman is a league above its predecessor which, although unique and quirky, was too small to be a proper estate and had a odd single rear side door, which in righthand-drive markets such as the UK, meant rear seat passengers had no choice but to get out in to the road.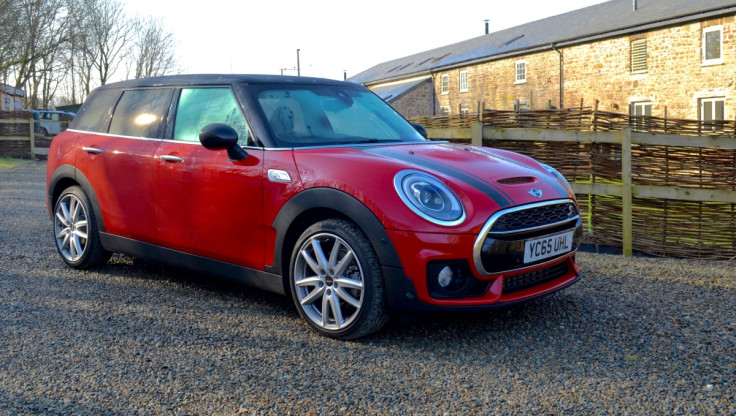 The latest model is a larger car in every way and has two proper pairs of doors, the rear of which give access to three back seats designed to take adults with ease. I put about 600 miles on this Clubman Cooper S on a road trip to Pembrokeshire with some friends. The car almost always had four adults on board – sometimes with four weekend bags, too – and I didn't have a single complaint about leg, shoulder or headroom.
In fact, the first comments from my distinctly non-petrolhead friend were all positive. It looks good, they said; it's nice, they added, and it's got a cool pair of back doors. It really has. I love the twin tailgate which pops open with a gently squeeze of each handle. They are heavily sprung and will likely knock a small child for six if stood in the way – and they take a good shove to close – but they ooze the same charm and character found pouring out of almost every detail throughout the car.
It may look a little fatter than you'd expect from the Mini name, but the same is true of the current three-door hatchback too. I drove the John Cooper Works hatch in 2015 and although it was an absolute hoot from behind the wheel, it looked, especially from the front, too bulbous. But then owning the smaller, prettier previous generation Cooper S means I'm inherently biased.
Back to the Clubman and I can quickly forgive its chunky looks. This is supposed to be a bigger car and from most angles its aesthetics work well. So too does the interior, which retains all of the charm of the hatchback – toggle switches and chrome included – but sticks everything in the photocopier at 110%.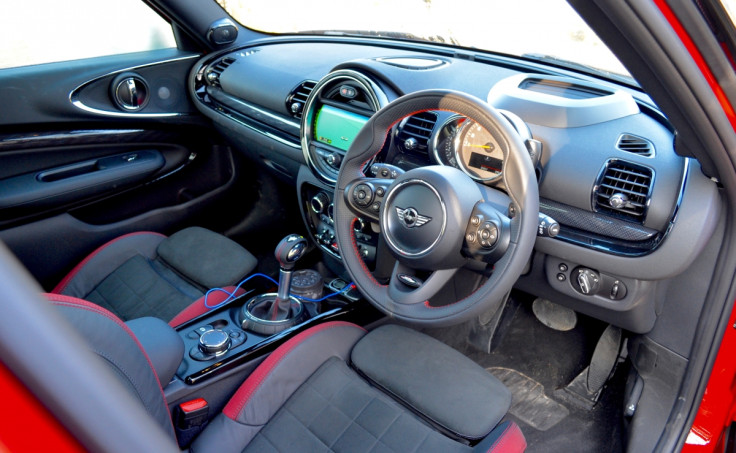 The result is a dashboard which curves gently around you, making the car feel more compact than it actually is, and between the two front seats is the first true centre console ever fitted to a Mini. This means the BMW-sourced controls for the sat-nav and media system are raised up to fall neatly under your left hand, instead of down on the floor between the seats where they are on other Minis.
At this point, I should confess that much of what makes the Clubman you see here look so good is an optional extra. This car in base Cooper S spec starts at £22,755, but the one in these photographs has a whopping £10,480 of extras, pushing the final price to almost £35,000. For a Mini – for any car this size – that is an awful lot. Much of the money has gone on extras from the John Cooper Works catalogue of parts which look beautiful – the seats and steering wheel especially – but add little else to the overall experience.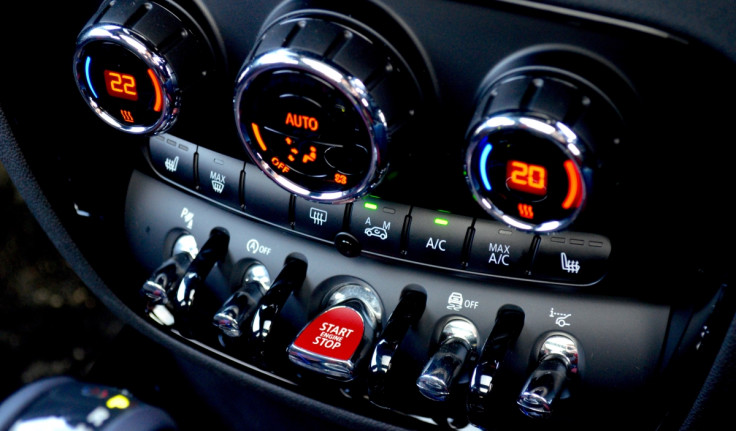 The long motorway slog from Wimbledon to Pembrokeshire was swallowed up with no effort at all. The optional eight-speed automatic gearbox felt good in that I often forgot it was there, such is the way it neatly switched between gears and always felt like it was in the right one. Despite the go-faster stripes and JCW kit, the Clubman was a smooth, quiet and comfortable place to spend five motorway hours, and despite being fully loaded with four adults and luggage it never felt short on power.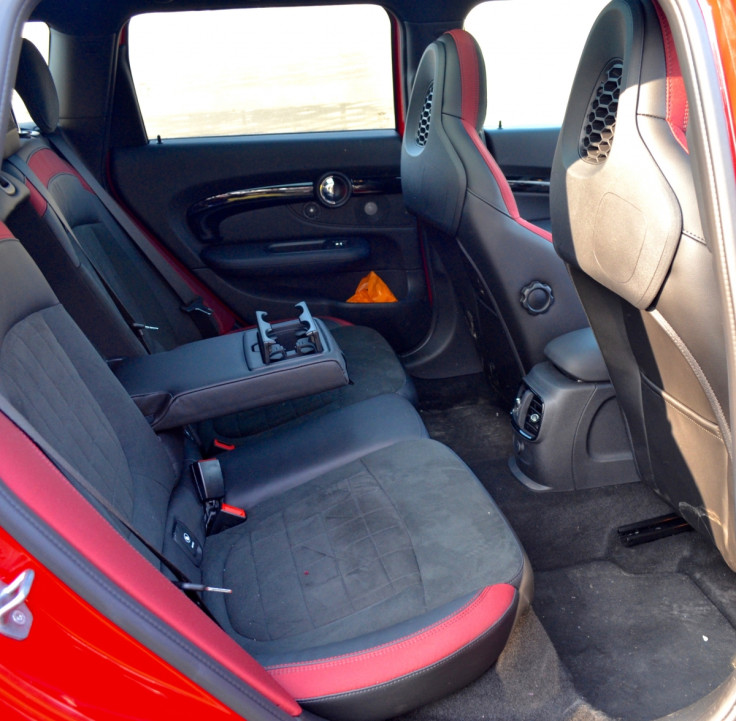 Rear leg room is good and there is easily space for two - and sometimes three - full-size adults
IBTimes UK
But this is a Mini Cooper S. It has bright red paint, those bonnet stripes, a sport mode which claims to offer "maximum go-kart feel" every time you switch it on, and an exhaust which pops and crackles when you lift off the accelerator. So, once my passengers were dropped off to prepare dinner and I was left alone with the Clubman and an impossibly quiet Welsh country road, did it come alive?
To an extent, yes. With 189bhp, the car has plenty of power to sprint up through the gears, which can be changed with steering wheel-mounted paddles when the mood takes you, and the exhaust pops nicely with each aggressive down-change. The JCW seats hold you well and the turbo-charged engine is keen to surge forward if you keep the revs high.
But it's not a real Mini. It feels tighter, firmer and sharper as you switch up from comfort to sport mode, but it can't match the sense of fun and purpose the hatchback – even my nine-year-old hatchback – produces at every opportunity. And if you leave the gearbox in automatic it feels sluggish and unsure when you put your foot down.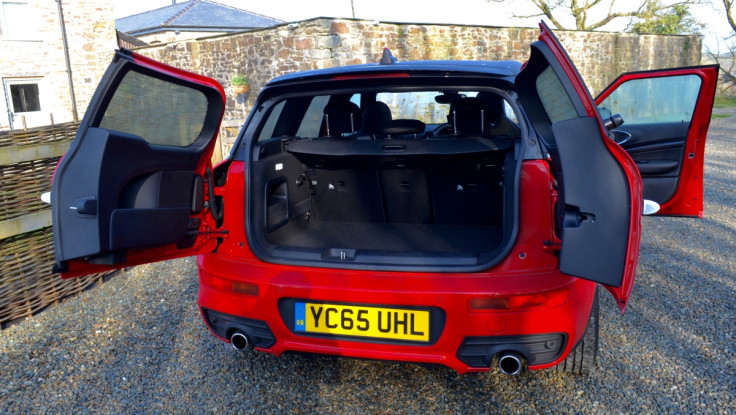 The standard Clubman probably feels like a very normal car indeed and it likely fulfils its purpose of being a practical, dependable – but also stylish – car for a small family. A Cooper S Clubman with 10 grand of extra kit feels like a childish dad has been let loose in the dealership and tried to make his practical family car as fun as possible.
This probably is as fun as a small estate can be – and it will still make you smile every time you switch it into sport and accelerate – but I can't help but suspect the car in this configuration is trying too hard to impress. It's got a bright new tie, some jazzy socks and a book full of jokes to tell at weddings, but it's still going to spend its life on the school run, not a mountain rally stage.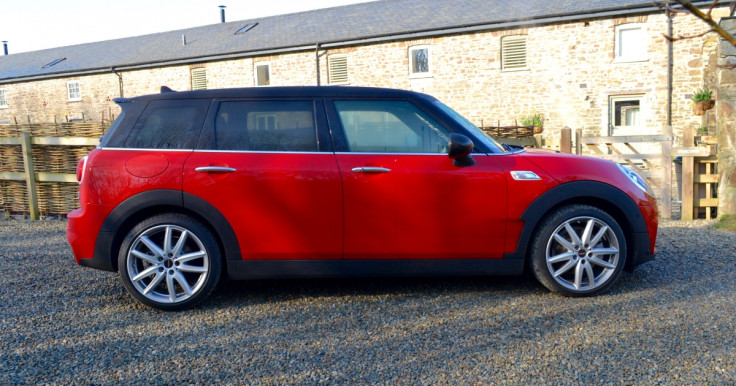 It felt a bit too artificial to me. I switched the car to sport and manual as often as I could on the winding, smooth, Welsh country roads. I tried to imagine I was threading the Cooper through an Alpine pass, not ferrying my friends to a zoo – and, every so often, the steering would load up nicely and that 'go-kart' feel felt like it was just another enthusiastic turn away.
But then I'd pull the left paddle to change down a gear, the exhaust would make exactly the same pop-p-p-pop-pop sound every single time, and the magic would fade. The Mini, with its stripes and its sport button, was merely going through the motions, reading from a script written by its ancestors instead of telling a new story.
Mini Clubman Cooper S
(8/10)
An attractive and practical car with bags of character and enough space for four adults with luggage. The Mini Clubman is a great car for a small family who don't want to upgrade to a full-on estate or SUV, but in Cooper S form it can't quite live up to expectations. It's still a quick car and entertaining for the odd solo run to the shops late at night, but the next morning it feels more at home carrying people and bags from A to B.
Quirky and characterful, but not as fun as you might have hoped. Perhaps this is just what growing up feels like.
© Copyright IBTimes 2023. All rights reserved.