Mini has revealed the first official pictures of the upcoming Roadster, a two-seater convertible based on the new Coupe.
The Roadster sits 20mm lower than the four-seater convertible, and is 3mm shorter and 47mm narrower than its larger cousin.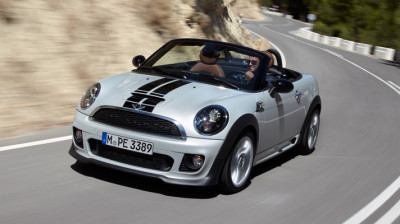 Mini claims that it is "pushing ahead with the rigorous expansion of its model family," and it's not wrong; there's now six different models available, and with more in the pipeline.
The Roadster will be the first ever convertible two-seater Mini in the brand's history and demonstrates that parent company BMW isn't afraid to adapt the brand and take it away from its 1960s origins.
Available in four varieties, the Roadster range includes the 122bhp Cooper, 184bhp Cooper S, a 143bhp 2.0-litre diesel and the range-topping 211bhp John Cooper Works. The Works model has a top speed of 147mph and a Mazda MX5-bothering 0-62mph time of 6.5 seconds.
Mini claims that the Roadster provides a "full-blooded go-kart feeling" with its bespoke chassis setup and extra front traction, thanks to a higher front axle load compared to the hatchback version.
The Roadster has a bigger boot - obviously from losing the back seats - at 240 litres, and more interestingly, there's DSC and DTC as standard.
Prices start at £18,015 for the Cooper, rising to £24,850 for the John Cooper Works version.