Britain's biggest banks doubled the amount of compensation paid out last month to customers mis-sold interest rate swap agreements. However, the month-on-month increase represents only a tiny fraction of redress owed to the estimated 40,000 businesses affected by the scandal.
According the Financial Conduct Authority's latest progress report, just 2,092 victims have accepted "full tear up" and alternative product offers so far, but this was twice the number of offers accepted in December.
Clive Adamson, director of supervision at the FCA said: "Redress is now rapidly flowing to small businesses. However, our focus will remain on ensuring that during the decision process affected business owners are treated fairly and that banks remain on course to get their initial offers of compensation out by the end of May."
Figures for January show that £306.2m (€368.4m, $499m) has been paid out so far, compared with £158.6m the previous month [Figure 1] - a drop in the ocean compared with the £20bn set aside to cover the payment protection insurance scandal.

IRSAs are contracts between banks and customers where typically one side pays a floating or variable rate of interest and receives a fixed rate of interest payments in exchange.
Such contracts are used to hedge against extreme movements in market interest rates over a given period. Companies that saw the value of these products move against them as rates fell during the recession now owe banks inordinate sums of money in yearly interest payments.
Each bank has made different speeds of progress.
For sales at the redress offer and acceptance stage, for example the redress outcome has been communicated to the customer, the Royal Bank of Scotland has 2429 at that stage while HSBC comes in second at 1688.
Barclays is at 1041 while Lloyds Banking Group has 819 [Figure 2].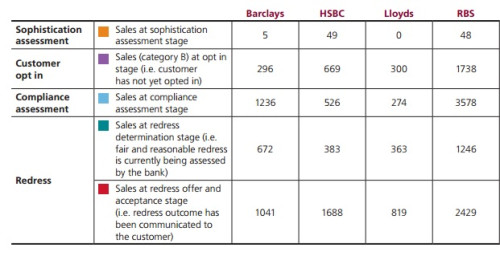 While banks have sped up their redress offers to customers, there is still a near 38,000 shortfall in the number of customers being eligible for review.
Even though the FCA said "the banks' ability to deliver against their projections will also require timely engagement from customers [and] we would like to encourage the 3,100 customers yet to opt-in to the review to do so as quickly as possible," there is a still a massive gap in redress offers and potential victims.
Considering that mis-sold derivatives have led to businesses and personal lives being destroyed, the £306.2m paid out is nothing compared to the £20bn set aside for mis-sold payment protection insurance (PPI) [Figure 3].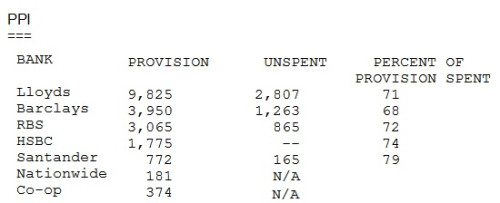 HSBC told IBTimes UK:
"Our Past Business Review is progressing well, with 70% of the customers who have taken part in the Review notified of their individual outcome, including details of redress where that is due to them. This equates to almost two thirds of customer trades."
"We are on course to complete our Review by May, providing a fair and reasonable outcome to these customers."
Relevant Barclays, RBS and Lloyds spokespeople were not immediately available for comment.