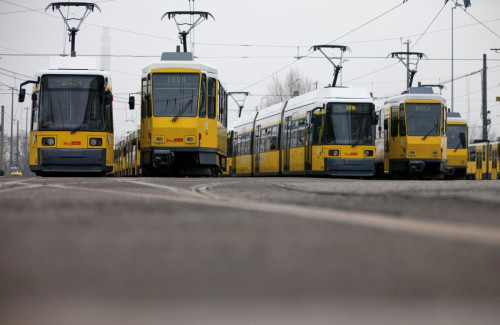 JPMorgan is suing Berliner Verkehrsbetriebe (BVG), the city's public transport group, over an "unfortunate" derivatives contract, which resulted in the bank being owed hundreds of millions of dollars.
BVG, which is being pursued for $204m (£247m, €335m) plus interest, has claimed it did not fully understand the risks involved and was misled by the bank in the first place.
The German transport operator which runs the capital's underground railway, tram, bus and ferry networks refused to deliver the cash following the loss from a collateralised debt obligation (CDO) deal it took out before the financial crisis.
CDOs are complex financial products tied to pools of cash-flow-generating assets such as high-yield junk bonds, mortgage-backed securities, and credit default swaps.
They were marketed to investors as investments with a defined risk and reward.
"Rather than simply accepting that it had been unfortunate in the events that happened in the financial markets, BVG has decided to follow a course doing everything it could to avoid paying its debts, casting around for someone to blame other than itself," said Laurence Rabinowitz, a lawyer representing JPM, in a London court on the first day of the trial.
Meanwhile, BVG claims that it was misled by JPM and the bank's law firm, Clifford Chance, and that it did not fully understand the risks involved.
Clifford Chance responded in a statement and said that the "claims against us are misconceived and entirely without merit."
According to court documents, BVG maintains that the employee most closely involved in the swap had no experience of the complex financial derivative the bank had pitched to him and misunderstood it.
Over the past few years, regulators have fined a number of investment banks for the sale and marketing of CDOs.
In August last year, a US regulator slapped UBS with a multi-million dollar fine for deceiving investors who bought a risky mortgage-backed bond transaction during the financial crisis.
Switzerland's biggest bank UBS will pay $49.8m to the US Securities and Exchange Commission (SEC) to settle charges that it violated the US' securities law after it failed to disclose certain fees and the true cost of structuring the CDO.
In the same month, Citigroup was ordered to pay over half a billion dollars back to investors, after a New York federal judge rubberstamped a settlement deal related to the bank hiding toxic mortgage assets.
In another case, a New York jury found former Goldman Sachs vice president Fabrice Tourre liable for misleading investors in a 2007 sub-prime mortgage investment deal, called Abacus 2007-AC1.
Goldman paid $550m in 2010 to settle with the SEC over the Abacus CDO.