The Financial Conduct Authority has revealed only 3,430 businesses have accepted redress offers from banks, which includes 'full tear up' and alternative product offers, out the 19,000 that made it past the sophistication test to gain compensation from being mis-sold derivatives complex interest rate swap agreements (IRSA).
According to the Financial Conduct Authority's latest update on the interest rate hedging product review scheme, as of 28 February, Britain's biggest banks said customers have agreed to £483m (€586m, $805m) in redress payments, after being mis-sold IRSAs, compared to £306.2m the previous month [Figure 1].
In total, 29,000 businesses entered into the review scheme while 10,000 failed to get past the sophistication test. Out of the 19,000 that passed, there have been 7,931 outcomes communicated to consumers, and only 3,430 have so far been accepted.
The FCA said "the banks' ability to deliver against their projections will also require timely engagement from customers."
"We would like to encourage the 1,900 customers yet to opt-in to the review to do so as quickly as possible."
However, this is still a miniscule figure in comparison to government estimates of potentially affected businesses.
Over the next few months the banks will continue sending out final reminders to customers to encourage as many as possible to participate, before the review is closed for new entrants.
However, despite the tiny fraction of redress owed to the estimated 30,000 to 40,000 businesses affected by the scandal, the FCA believes that banks are on track to complete the scheme over the next 12 months.
Some businesses have gone through the courts to settle their claims instead of waiting for the scheme to end.
Each bank has made different speeds of progress. [Figure 2]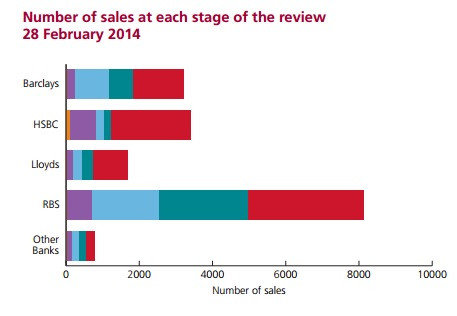 For sales at the redress offer and acceptance stage, for example the redress outcome has been communicated to the customer, the Royal Bank of Scotland has 3,159 at that stage while HSBC comes in second at 2,181.
Barclays is at 1,405 while Lloyds Banking Group has 953.
What are IRSAs?
IRSAs are contracts between banks and customers where typically one side pays a floating or variable rate of interest and receives a fixed rate of interest payments in exchange.
Such contracts are used to hedge against extreme movements in market interest rates over a given period. Companies that saw the value of these products move against them as rates fell during the recession now owe banks inordinate sums of money in yearly interest payments.