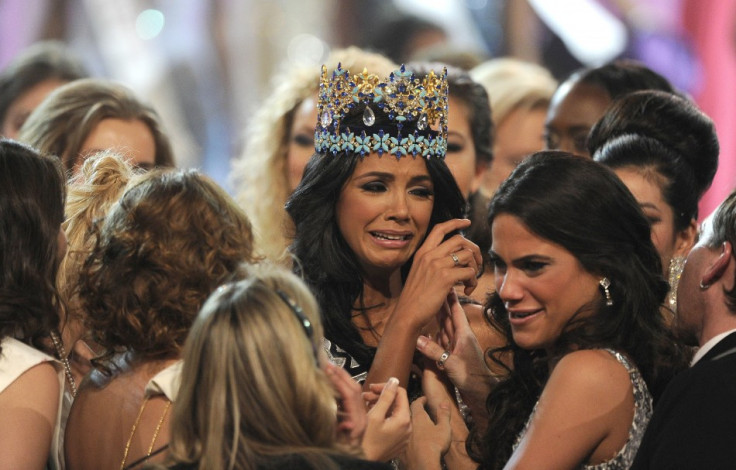 Feminist protesters gathered outside the 60th Miss World competition in London Sunday night.
Around 200 demonstrators, wielding signs like "Miss Ogynist", chanted outside Earls Court as Miss Venezuela, Ivian Sarcos, was crowned Miss World 2011.
A billion people worldwide watch the show.
"We're here because Miss World has absolutely no place in a world that treats women and men equally," Kat Banyard, author of "The Equality Illusion" and founder of the organisation UK Feminista, told the Guardian.
"It perpetuates the beauty myth [and] indoctrinates people across the world with its toxic ideals, We know that [those ideals] have a very harmful effect," she added.
"We have read that the murderer of Joanna Yeates was using pornography which contained images very similar to how he murdered Joanna," Sabrina Qureshi, the founder of Million Women Rise, told the Telegraph
"To stop such heinous crimes against women and girls, we need to stop trivialising what may appear to be harmless practices and start joining up the dots of women's treatment, representation and discrimination."
Miss World has been running every year since 1951. It was launched as part of the Festival of Britain and has courted its fair share of controversy over the years.
In 1970, U.S. comedian Bob Hope, who was the compere at the show, had flour bombs and tomatoes thrown at him by feminist protesters while he was on stage.
In 2002, Nigeria had been due to host the contest when riots broke out over a newspaper article that suggested a modern-day prophet Mohammed would have taken a Miss World champion for his bride.
Some 100 people were killed after four days of rioting in the city of Kaduna and the competition was moved back to London at the last minute.
The 2010 competition in China was won by America's Alexandria Mills, despite Norway's entry Mariann Birkedal being heavily tipped as the favourite.
China's government, the host of that year's contest, was accused of putting pressure on the judges to make sure Birkedal lost, after Norway issued the Nobel Peace Prize that year to imprisoned Chinese human rights activistt Liu Xiaobo.