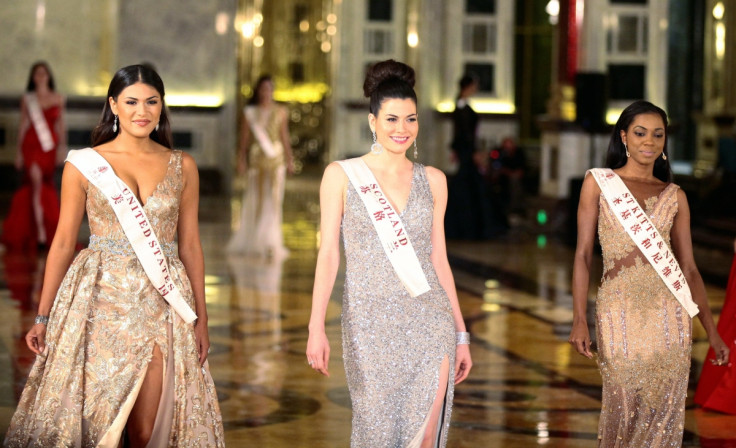 The 65th edition of the Miss World pageant has announced its top 10 semi-finalists during its grand finale in Sanya, China. The top 10 contestants of Miss World 2015 are from Russia, the Philippines, Guyana, Lebanon, Spain, Jamaica, France, South Africa, Spain and Australia.
The semi-finalists were initially chosen according to their positions on the pageant's leader board, which ranked the top 20 contestants based on their performance in the pageant's six distinct contests, including multimedia (Miss Philippines Hillarie Parungao), top model (Miss Spain Mireia Lalguna Royo), sports challenge event (Miss Namibia Steffi Van Wyk), beauty with a purpose (Miss Indonesia Maria Harfanti), talent champion (Miss Guyana Lisa Punch) and the world fashion designer award.
The Miss World 2015 pageant also announced an eleventh top contestant, Miss Vietnam, who made it to the top 11 contestants by winning the people's choice poll with maximum votes.
The other ten contestants who made it to the top 20 list included participants from the Netherlands, Brazil, Kazakhstan, Poland, New Zealand, China, South Sudan, Scotland, Ecuador and Northern Ireland.
Miss England Natasha Hemmings and Miss India Aditi Arya, who were seen as one of the top contenders, could not secure their places in the top 20, or in the top 10.
The Miss World Final is taking place at the Beauty Crown Grand Theatre in Sanya where a total of 116 contestants are vying for the coveted title. One will be crowned by the reigning Miss World 2014, Rolene Strauss of South Africa.
Out of the top 11 semi-finalists, contestants from Spain, Russia, Indonesia, Lebanon and Jamaica made to the top five finalists. The top five contestants were asked why they should win the pageant. Miss Spain said: "I believe in a strong winner, I think I have something inside my heart, that I can show the world."
"To share my life love and happiness with the people is really what I want to do," said Miss Russia. Maria Harfanti of Indonesia said she should win Miss World to fulfil her dreams. Miss Lebanon Valerie Abou said: "I think modesty, love and honesty is what the world needs right now, and Miss World should be this!" Miss Jamaica Sanneta Myrie summed up the list by saying, "My quest in life is to inspire the world with my soul, and I believe BWAP (Beauty with a purpose) embodies my quest."