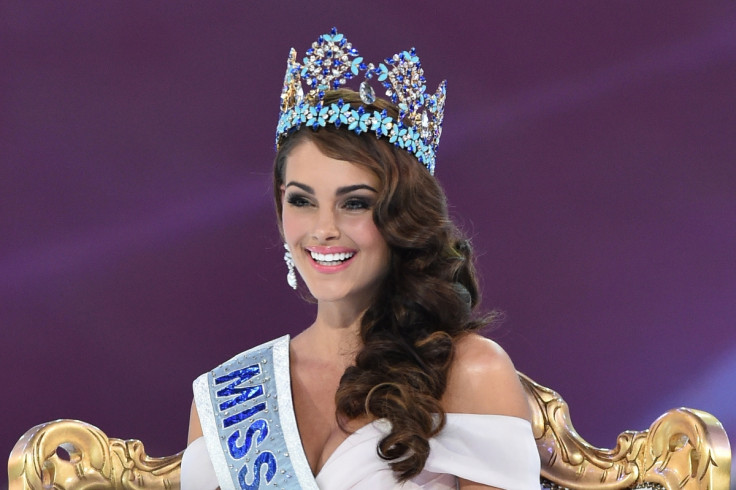 Rolene Strauss of South Africa, the winner of the Miss World 2014 pageant, has reflected on her one-year journey as the holder of the coveted title as she gears up to crown her successor. Strauss will pass on her Miss World crown to the winner of this year's pageant which will be held in China on 19 December.
The 23-year-old Strauss said her journey as Miss World was easy and difficult, full of good times and bad times. "I can truly say that I am grateful for each of these times as they were sculpting me into the woman I still strive to be," Strauss was quoted as saying by the Miss World office as she completed one year of being crowned on 14 December.
After winning the crown, a Miss World has an array of activities lined up for the whole year. She has to extensively travel across countries to oversee various kinds of social work and be involved with charity projects. As Miss World 2014, Strauss, who is a model by profession, has travelled to India, Sri Lanka, the Philippines, the United States, Indonesia, Jamaica and Mexico among others.
"Travelling the world and seeing places a usual tourist wouldn't necessarily get to see, opened up my eyes to so many wonderful (and sometimes sad) things," she said. "I realised that we as humans are all part of one integral picture, we all long for similar things and most importantly, we can all make a difference."
The Miss World said her heart specially went out to children and babies in Mexico and India. "My heart slowed down when a little orphan girl in Oaxaca, Mexico asked me to take her home with me. How could you even answer such a desperate little girl?
"Sometimes you wish you could do more. The premature children in the hospital of Shirpur, India, made me rethink life and its purpose. How could a small child suffer without any reason? I have learnt that some questions we just don't have the answers to, all we can do is use the opportunities we receive to give back."
Strauss was crowned Miss World 2014 by the previous year's winner, Megan Young of the Philippines. Strauss thanked Young for her journey as a beauty queen. "Thank you Megan; you have inspired me to be the best Miss World I could have been and now, to be the best mentor I can be for our next Miss World."
A total of 117 contestants are competing in the 65th edition of the beauty pageant, the Miss World 2015. Strauss will crown the new Miss World in a live finale at the Beauty Crown Grand Theatre in Sanya.
More on Miss World 2015