Mission Impossible 5: Tom Cruise Performs Death Defying Stunts 5,000ft Above Ground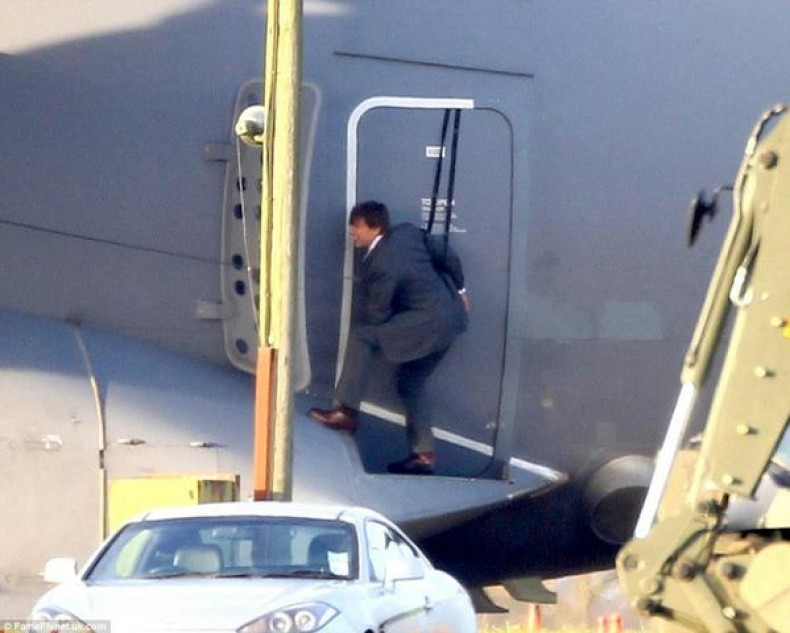 Tom Cruise is leaving no stone unturned for the success of the fifth instalment of his movie franchise Mission Impossible.
The 52-year-old star, who prefers to do his own stunts, has performed some death defying stunts for Mission Impossible 5.
The popular Hollywood star was spotted hanging outside of a plane flying 5000 feet above ground level while filming some daredevil action sequences for the highly anticipated movie which is slated to be released next year, MovieWeb reported.
"The actor was seen strapped to the side of an Airbus A400M plane which was flying over the British countryside. While he was strapped in with two harnesses, he also used fixtures on the plane to hold on as the plane took off. Dressed in a full three-piece suit, the actor is also seen practicing this sequence with a stunt-man dressed in an identical charcoal suit," the website report reads.
Tom Cruise's latest Mission Impossible stunt: He straps himself to a military plane as it takes off at 250mph pic.twitter.com/DqPE1xM2lE

— Behind the Scenes (@MakingOfs) November 3, 2014
"@Austynzogs: Tom Cruise proves he is d world's leadin action star wt a death-defying stunt for Mission:Impossible 5 pic.twitter.com/cvqzY233cj"

— The GIDITRAFFIC App (@Gidi_Traffic) November 4, 2014
"One night, after one of the earliest shooting days, I bolted up in bed realizing that we had our star dangling about a mile up in the air on a thin wire and my brain was screaming, 'What the hell are we doing,'" director Brad Bird told The New York Daily News.
Previously, Cruise did another dangerous stunt for the movie Mission: Impossible Ghost Protocol when he traversed from the world's tallest building, the Burj Khalifa of Dubai.
Tom Cruise's most awaited action thriller Mission: Impossible Ghost Protocol also stars Jeremy Renner as William Brand.
Simon Pegg and Ving Rhames are reprising their characters of Benji Dunn and Luther Stickell.
Mission: Impossible 5 will hit theatres on December 25, 2015.