Mitt Romney Tours Hurricane-Hit Louisiana Ahead Of Obama
Mitt Romney reaches out to Louisiana residents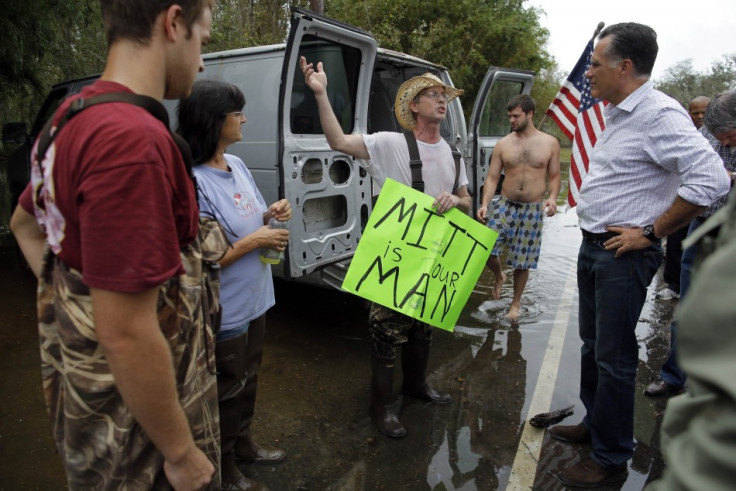 Republican presidential candidate Mitt Romney visited Friday a town in Louisiana that experienced the full fury of Hurricane Isaac, a day after accepting the party nomination for the presidency.
"I'm here to learn and obviously to draw some attention to what's going on here so that people around the country know that people down here need help," Romney told Louisiana Gov. Bobby Jindal.
Hurricane Isaac has left a trail of devastation along the Gulf Coast and brought flooding in Louisiana and Mississippi.
Though Isaac caused less destruction than Hurricane Katrina seven years ago, it caused at least six deaths in Louisiana and Mississippi.
Up to 1,800 people died when Katrina lashed the Gulf Coast in 2005.
Romney, who reached the storm-ravaged area ahead of President Barack Obama, spent about an hour meeting local officials and residents.
He inquired about relief measures and federal assistance. Nearly 600,000 people are experiencing an electricity blackout across Louisiana, Mississippi and Arkansas.
"He just told me to, um, there's assistance out there. He's good. He'll do the best for us, you know. He speaks to our best interests at heart," resident Jodie Chiarello told the BBC.
Obama will tour Louisiana after the weekend. Earlier, Obama declared Louisiana a federal disaster zone, freeing up federal funds to clear debris and enable other recovery plans.
© Copyright IBTimes 2023. All rights reserved.