Mitt Romney to Back Israel on Military Action Against Iran
Mitt Romney is in Israel on the second leg of his three-nation tour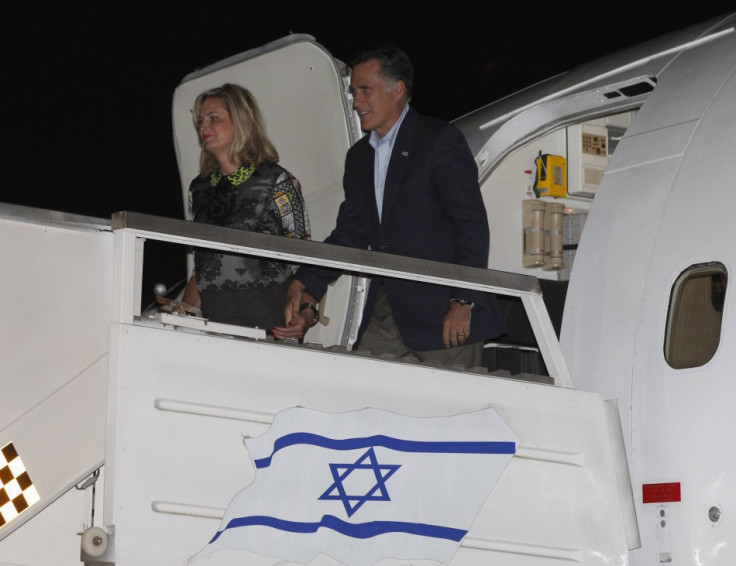 US presidential candidate Mitt Romney would back Tel Aviv if Israel were to take unilateral military action to prevent Iran from developing nuclear weapons, his top aide has said.
Romney is in Israel as part of his three-nation tour ahead of the November presidential showdown. It is the Republican presidential candidate's fourth visit to Israel and is widely seen as an attempt to woo pro-Israel voters in the US.
"If Israel has to take action on its own, in order to stop Iran from developing that capability, the governor would respect that decision," Romney's senior national security aide Dan Senor told reporters.
The comments came ahead of Romney's meeting with top officials in Israel including Prime Minister Benjamin Nethanyahu and President Shimon Peres. Romney is also due to meet Labour leader Shelly Yechimovich, Kadima chief Shaul Mofaz and Palestinian Authority Prime Minister Salam Fayyad.
The Republican presidential nominee is expected to say that an aggressive approach is needed to avert any threat from Tehran which might be fatal to the existence of Israel.
In a speech to be delivered on 30 July, Romney will say, "When Iran's leaders deny the Holocaust or speak of wiping this nation off the map, only the naive - or worse - will dismiss it as an excess of rhetoric," according to Reuters.
The speech will continue: "Make no mistake: the ayatollahs in Tehran are testing our moral defences. They want to know who will object, and who will look the other way."
Romney's comments are in contrast with the political line of President Barack Obama, who is keen to convince Israel not to conduct a preemptive attack against Tehran.
Former Massachusetts governor Romney arrived in Tel Aviv after an unhappy trip to London, where he stirred up a hornets' nest by questioning the readiness of London to host the Olympic games.
"There are a few things that were disconcerting [about the build-up to the Games]. The stories about the private security firm not having enough people, the supposed strike of immigration and customs officials - [these are not] encouraging," he told NBC News.
Romney later back-tracked, applauded the work of the organising committee in bringing the Olympic experience right into the heart of London. "What I have seen shows imagination and forethought and a lot of organisation," he said.
Romney's next destination on his three-nation tour is Poland.
© Copyright IBTimes 2023. All rights reserved.