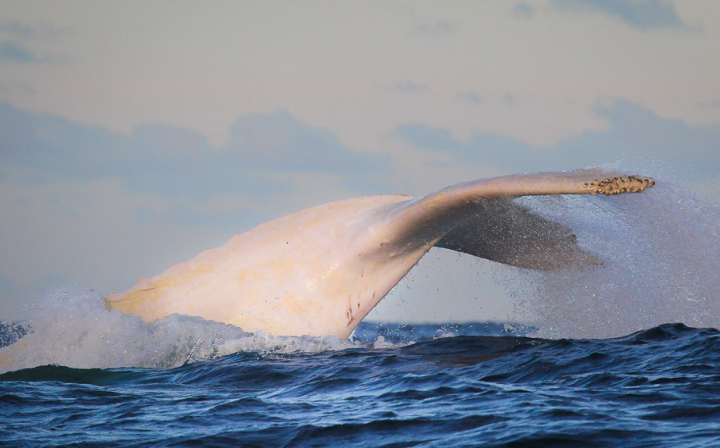 An extremely rare white whale known as Migaloo has been spotted near Australian coasts.
The humpback was seen by Whale Watching Sydney cruise director­ and photographer Jonas Liebschner near the coast of Cronulla.
"I've been whale-watching for seven years and I've never been so excited ... it's a once-in-a-lifetime experience, it's the Holy Grail of whale watching," Liebschner said.
Migaloo – spotted with other four whales - is believed to be heading to the warmer waters of Australia' east coast.
According to Janene Rees from Moonshadow , Migaloo tends to travel alone or with only a couple of other whales.
Migaloo is an Aboriginal word for "white fella". Paul Forestell, Vice President of Pacific Whale Foundation, helped coin the name based on advice from an Aboriginal elder.
The white whale was spotted for the first time in 1991.
Oskar Peterson, from the White Whale Research Centre, said: "There were a couple of years after 1991 when we didn't see him at all, and there's been a couple of years when he goes missing in action.
"He glows, you can't really miss him when you do see him out there from a distance, and it's like fluorescent blue when you see him up close."
Migaloo was believed to be the only all-white whale until 2011, when a white whale calf- named Migaloo Jr - was found.
The white whale has been granted "special status": watchers cannot be closer than 500 metres from the animal and they are subjected to heavy fines if they breach the law.
Migaloo is part of the East Australian Humpback population.
According to 2011 statistics, there was an estimated 14,000 - 16,000 individuals.