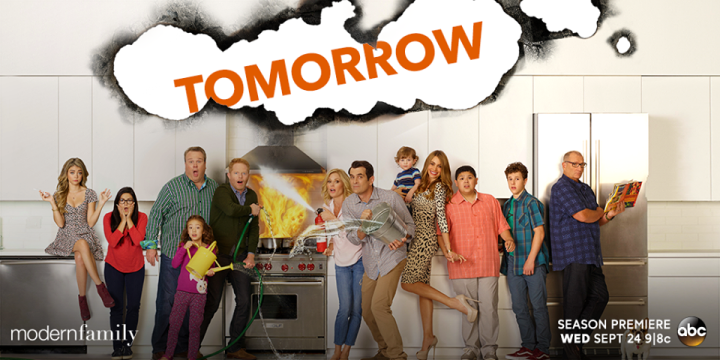 The five-time Emmy award winning Comedy series, Modern Family returns for its sixth season on Wednesday, September 24th.
The premiere episode is titled The Long Honeymoon, and the episode will deal with marital troubles and changes that await the newly-weds Mitchell Pritchett (Jesse Tyler Ferguson) and Cameron Tucker (Eric Stonestreet).
Cameron's new gig as varsity football coach will create differences between the couple. Showrunner Christopher Lloyd told TVLine. "It's a bit of a Friday Night Lights situation where the community thinks Cam is the second coming of football coaches, and Cam starts to crack under the pressure."
The official synopsis of the Season 6 premiere episode reads:
This summer has been exceptionally blissful in the Dunphy house, Alex is away on a humanitarian trip and the rest of the family is getting along swimmingly, but when Alex comes home, there is an immediate shift in mood. Elsewhere, Mitch and Cam have returned from their honeymoon and Mitch is acclimating to real life much quicker than the still lovey-dovey Cameron. And, Gloria has taken issue with how little effort Jay puts into his appearance and decides to give him a taste of his own medicine.
Watch the season premiere promo here.
Modern Family Season 6 will premiere at 8 pm ET on 24 September and can be watched online through live stream by clicking here.
Here are a few tweets on the show's premiere.
I can't wait for modern family season 6

— PT (@towerspaige) September 24, 2014
Season 6 of @ModernFam starts tmr #hype — Brett Dickie (@DICKIE_13) September 24, 2014
so excited for season 6 of Modern Family

— madds✨ (@_mxdds) September 18, 2014
But season 6 of modern family premieres next week. God you are so wonderful — Osofo Stacy. (@africanbiatchh_) September 17, 2014
MODERN FAMILY SEASON 6 COMES OUT TOMORROW. YES!!!!!

— Shireen Cindy Koh (@ShireenCindy) September 24, 2014