Around 5,000 protesters angry at the film Innocence of Muslims have tried to storm the US embassy in Sanaa, the capital of Yemen.
Reuters reports that demonstrators smashed windows as security guards opened fire. There are reports of casualties on both sides.
Before storming the embassy compound, the demonstrators ripped down signage on the outer wall and set tyres on fire. Once inside the compound, they dragged down the US flag and burned it.
The Yemen Times reported that the embassy crew were moved to a safer location.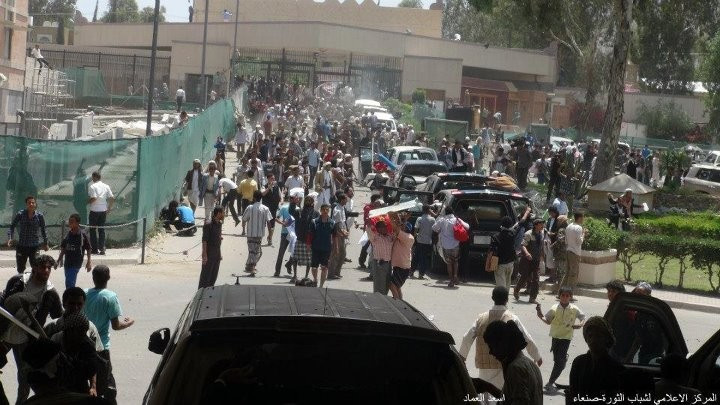 Egypt's president Mohammed Mursi has assured the US that Egypt is keen to protect diplomatic missions from "unlawful acts" and condemned the killing of US ambassador Chris Stevens in Libya.
In a joint address with the president of the European Commission Manuel Barroso, Mursi also lambasted the US-made Islamophobic film that sparked protests in Egypt, Libya and Yemen.
"Everywhere there's anger in the Arab world for a small movie that defames the Prophet," he said. "We condemn that [the movie] and those who launch such slogans and provocations, those who stand behind hatred.
"After a conversation with US President Obama I can assure you that those people are a minority."
He added that Egypt has "moved forward from corruption and dictatorship to a new era of freedom, democracy, rule of law and guarantee of rights to all Egyptians with no distinctions among us or between them.
"We are very keen to respect visitors, tourists, diplomatic missions. We are required by God to respect visitors."
Morsi assured Obama that Egypt will be keen to assure that those events that took place at the US embassy in Cairo will not happen again. Following the initial embassy attack, the government ordered a 24-hour embargo blocking all protests surrounding the building.
On Tuesday, the US ambassador to Libya, Chris Stevens, was killed in a fire started after the US consulate in Benghazi was stormed. Three other US consul staff and several Libyans died in that attack.