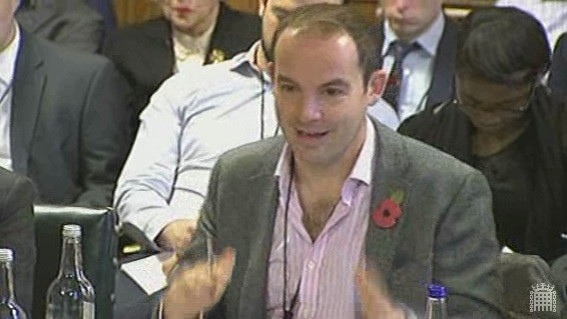 Moneysavingexpert.com's founder Martin Lewis was the only member out of a panel of four consumer finance advice groups to suggest that there isn't an appropriate place for payday lending in society.
Speaking at a House of Commons Business, Innovation and Skills Committee hearing, consumer finance champion Lewis said that he cannot a situation where receiving a payday loan would be the most appropriate choice of credit.
"I struggle to think of an occassion where [gaining a payday loan] is the right choice [for the consumer] as I usually find there are alternative ways of gaining cheaper credit," said Lewis.
"There is a subtle but very important difference between people who cannot pay a loan back bin one month's time and people who can pay back the loan in one month's time but can't afford to."
Lewis said even getting a credit card, putting it in a bowl of water, freezing it and then cracking it open when it is needed, is a much better alternative than a payday loan.
"[Our society] would all be better without them [payday lenders]," said Lewis.
What the Others Say
MPs asked other members of the panel, Citizens Advice, Which? and StepChange whether there is a viable place for payday lending in the consumer credit market.
Which?'s executive director, Richard Lloyd, said he is not against payday lenders, as long as "access to short term emergency loans are properly checked for affordability and that the costs are clear and fair."
Citizens Advice's chief executive Gillian Guy said that while she agreed with Lloyd, it is wrong that "people force fed" in taking these loans when they should be "directed top debt advice."
Meanwhile, Stepchange's head of policy, Peter Tutton warned that "explosive growth" in the payday lending market is becoming a problem, following "irresponsible lending and lax affordability checks."
The UK payday lending sector, which is worth £2bn ($3bn, €2.3bn) in the UK. The sector in 2013 has doubled from that of 2008 to 2009.
Current figures show that this corresponds to between 7.4 and 8.2 million new loans.
Despite these loans being described as one-off short term loans, costing an average of £25 per £100 for 30 days, up to half of payday lenders' revenue comes from loans that last longer and cost more because they are rolled over or refinanced.
Interest rates on the short term loans can reach highly inflated levels.
Wonga has recently bumped up its representative APR of 5,853% on its website.
Related Articles:
Wonga's Henry Raine: Payday Loans Are Better Than Banks and Credit Cards
Consumer Credit Trade Association Claims Only 36 Payday Loan Complaints Made in 2013
Moneysavingexpert's Martin Lewis Slams 'Desert of Regulation' in Payday Lending