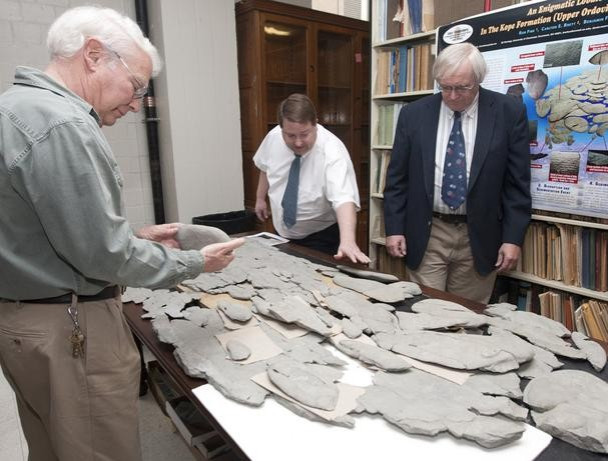 A 450-million-year-old fossil has baffled geologists about where it came from.
Dubbed "Godzillus", the fossil, which was dug up in 2011 in Kentucky, measures 2 metres (6ft) across and weighs 68kg (150lb).
The Dayton Daily News reports that scientists at a Geological Society of America viewing were doubtful whether the elliptical-shaped specimen was an animal, vegetable or mineral.
"We are looking for people who might have an idea of what it is," said Ben Dattilo, an assistant professor of geology at Indiana University-Purdue University Fort Wayne.
It will be put into storage and no further studies carried out unless similar fossils can be found, the geologists said.
"Until we know where to fit it in, we don't really know what to do with it," he said.
Carl Brett, University of Cincinnati geology professor, said that the fossil was the largest one of its kind from the period.
Amateur palaeontologist Ron Fine, who found the specimen in Kentucky, told the Cincinnati Enquirer that he decided to call the fossil "Godzillus" because "it sounded more scientific".
"Like Godzilla, it's a primordial beast that found its way to the modern era," he explained.
Fine, who is a mechanical designer, has been collecting fossils since he was four. He found the specimen while walking on a hill in Kenton county.
"The rest was sticking out of the hillside," Fine said. "I had to dig it out. Took all summer. Most fossils around here are small, the size of your thumbnail or your thumb. This thing's huge."
The Dayton-Cincinnati region is famous for fossils. It was once covered by shallow seas.