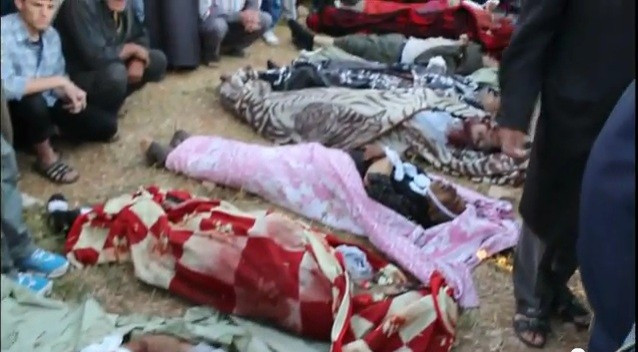 Gunmen killed 12 workers at a state-owned fertiliser factory in western Syria, activists have said.
The bus in which they were travelling was stopped at a police checkpoint and the workers were shot, according to reports in Qusayr.
The Syrian Network for Human Rights (SNHR) blamed the massacre on the Syrian regime's forces and members of the pro-regime Shahiba militia.
The organisation said a relative of the victims told them the passengers were told to get off the bus at a police checkpoint in Qusayr.
Security forces and militia then robbed and executed them before mutilating the bodies, SNHR claimed.
Videos posted online showed the 12 corpses bearing clear mutilation marks, with some showing severe wounds in the stomach and the head suggesting they were shot at close range.
Activists have provided a list of the victims.
The Britain-based Syrian Observatory for Human Rights said of the bus massacre: "Twelve civilians were martyred during the random bombardment of al-Quasyr by the Syrian forces, who are trying to reclaim the city. The bodies of 12 civilians from the village of al-Buweida al-Sharqiyya, Reef Homs, were found; the bodies belonged to workers from the fertiliser plant in Reef Homs."
In a separate incident, also in Qusayr, SNHR said 13 people were killed and many injured as a result of shelling by government troops.
Reports from Syria cannot be independently verified as state authorities have barred international journalists and rights groups.
The latest reports of violence came a day ahead of an emergency United Nations Human Rights Council meeting that will focus on the Syrian conflict.
In the last week's violence has intensified in Syria, prompting speculation that the country is on the brink of civil war.
On 31 May, 13 bodies were found in the eastern province of Deir-el-Zour, near the Iraqi border. The men were believed to be workers for an oil company.
Last week, 108 people, half of them children, were killed in a cluster of villages known as Houla.
The shocking discovery led to international condemnation with around a dozen countries recalling their ambassadors and diplomats from Syria in protest.
Activists said the Shabiha was responsible for the bloodshed but the Syrian regime blamed the violence on about 800 rebels fighters.
The office of the UN high commissioner for human rights, Navi Pillay, said on 29 May that UN investigators had found that most of the Houla massacre victims had been shot at close range or stabbed. Only 20 victims were killed by tanks and heavy artillery it added.
Hillary Clinton Condemns Russia for Failing to Act over Syria Violence