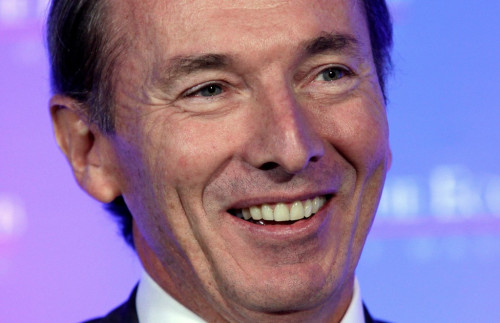 Morgan Stanley, owner of the world's largest brokerage, will give chairman and chief executive James Gorman a $5.06m (£3.04m, €3.69) stock bonus for 2013, a payout that is almost double his 2012 equity award.
Gorman will get 155,207 restricted shares, according to a 23 January filing with the US SEC, alongside his $1.5m salary, which was nearly doubled in 2013 from $800,000 previously.
Morgan Stanley will disclose details about Gorman's cash bonus and long-term incentives later in the year.
The value of Gorman's 2013 stock awards is based on Morgan Stanley's closing share price of $32.63 on 21 January.
The increase in stock awards reveals Gorman may take home his first boost in total compensation since taking over as CEO. After receiving $14m for 2010, his pay dropped to $10.5m for 2011 and $9.75m for 2012.
Instant Cash
The CEO will also get his first immediate cash bonus in three years, an unnamed source told Bloomberg.
Morgan Stanley is increasing the amount of bonuses that top traders and bankers receive immediately, while reducing the portion of revenue set aside for pay in its institutional securities division.
The bank will defer 50% to 98% of bonuses for employees who command a total pay of at least $350,000 and incentive pay of $50,000. Last year, that group had 100% of its bonuses deferred.
Morgan Stanley awarded Colm Kelleher, who heads the investment banking and trading division, shares worth $4.37m. Kelleher is based in London and must receive a minimum portion of his reward in stock, as per British rules.
Greg Fleming, who runs the brokerage and asset management businesses, received stock worth $4.17m.
Chief Financial Officer Ruth Porat received $3.36m in shares, while Chief Operating Officer James Rosenthal received $2.87m in shares.
Morgan Stanley's stock shot up 64% in 2013 on improving profit margins in retail brokerage and after it generated the most equity-trading revenue since the financial crisis.
However, the bank reported a 5% return on equity, unchanged from a year ago, falling short of Gorman's target of 10%.
Gorman received a $6m award for 2012 that included $2.63m in stock options and $2.58m in deferred cash, alongside his $800,000 salary. He also received a $3.75m long-term incentive conditional to the bank meeting performance targets.