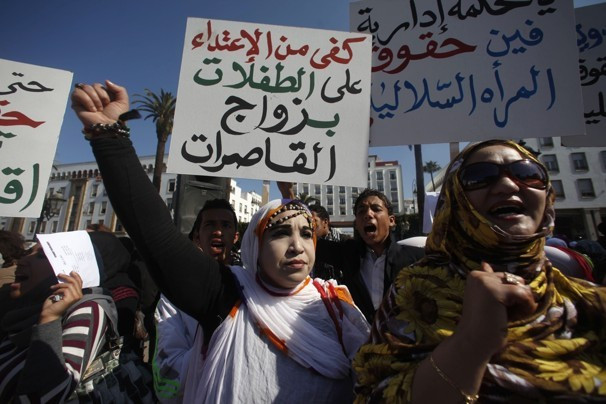 Women's rights organisations in Morocco have reacted angrily to a controversial statement by the country's only female government minister that has denounced their attempts to highlight the issues of rape and sexual abuse.
Bassima Hakkaoui, Morocco's solidarity, women and family minister, said: "The issue of child sexual abuse has been politically exploited" by Morocco's rights associations, and this has "greatly harmed Morocco's image abroad".
The group wants a change in the law that allows rapists to marry their victims - even if that victim is a child.
Hakkaoui had already caused consternation by describing Morocco's Democratic League for Women's Rights (LDDF) as irresponsible and confused in its approach to the Convention on the Elimination of Discrimination against Women - a key international agreement designed to enshrine female equality and security.
The LDDF has urged the government to "hold the minister institutionally accountable for her provocative, negative discourse against the functions and activities of associations that protect and promote rights, and contribute to democratic development".
The president of the LDDF, Khadija Rabah, lamented Hakkaoui's "attempts to defame rights and women's associations as if they were serving foreign agendas, and not concerned with the interests of their country".
Amina Filali suicide
The controversy erupted just four months after the suicide of a 16-year-old Moroccan girl, Amina Filali, who took her own life after being forced into marriage with a man who had raped her twice.
Critics saw Amina's death as a damning indictment of Morocco's rape laws, which allow men who rape underage girls to marry the victim - and thereby avoid prosecution.
The suicide prompted demonstrations outside Morocco's parliament, with scores of rights activists holding slogans saying that "the law has killed Amina".
In the immediate aftermath of Amina's death, Hakkaoui appeared to favour strong actions in favour of women's rights. She demanded "a debate to reform the [rape] law", and has since reassured rights groups that she is working with the United Nations and Spain on a bill that would contain the "most severe" punishment for acts of violence against women.
However, rights leaders believe the minister's latest comments contradict her previous stance in favour of protecting women.