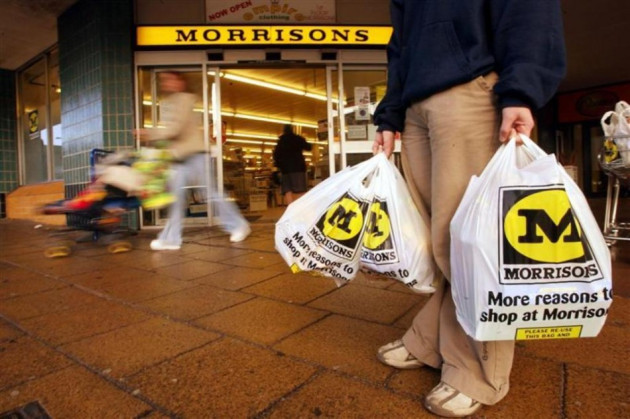 William Morrison Supermarkets, Britain's fourth-largest grocery store chain, reported disappointing third-quarter sales figures on 7 November.
The firm cited weak consumer spending, the lack of an online shopping platform and low exposure to the convenience shopping market as reasons for a sharp decline in like-for-like sales.
The Bradford-based group said like-for-like sales for the 13 weeks to 3 November declined by 2.4%. Sales including fuel fell by 3% from the same period last year, the company said in a trading update.
Morrisons' shares fell 0.93% in early London trading after the company said its third quarter results were "in line" with its expectations and after the firm left its full-year financial outlook unchanged.
The stock has gained some 6% so far this year.
Morrisons said that plans to roll out an online footprint are "progressing well". The company will unveil its online service in January 2014 in partnership with Ocado.
The retailer expects to commence online food deliveries in Warwickshire in January, and will extend that service to Yorkshire shortly thereafter.
By the end of 2014, Morrisons expects to serve over 50% of UK homes, including London, according to the statement.
The company remains on track to have opened 100 M local stores by the end the year. It proposes to open an additional 100 stores in the 2014/15 fiscal year.
Morrisons' Bury distribution centre is operational and it will support the expansion of its convenience store network in the North West, the statement added.
"We continue to grow our sales in this tough market whilst making great progress on our strategy to be a multi-channel retailer. In convenience we are currently opening three M locals a week... We've made good progress in strengthening our core proposition during the quarter and with Christmas just round the corner, we are pleased to see customers responding well to our 'Big Christmas Bonus' and industry leading deals," chief executive Dalton Philips said in the statement.
Competitive Market
Britain's big four supermarkets -- Tesco, Wal-Mart's Asda, J Sainsbury and Morrisons -- are under pressure as prices become less of a differentiator for shoppers, according to research from Kantar Worldpanel.
Sainsbury's is the only big four grocer to increase its market share over the past year. It grew from 16.4% to 16.6% and recorded a market-beating growth of 5.1%.
Online grocery shopping is growing at a rate of about 16% a year in the UK, while the convenience store sector is growing at about 20% a year.