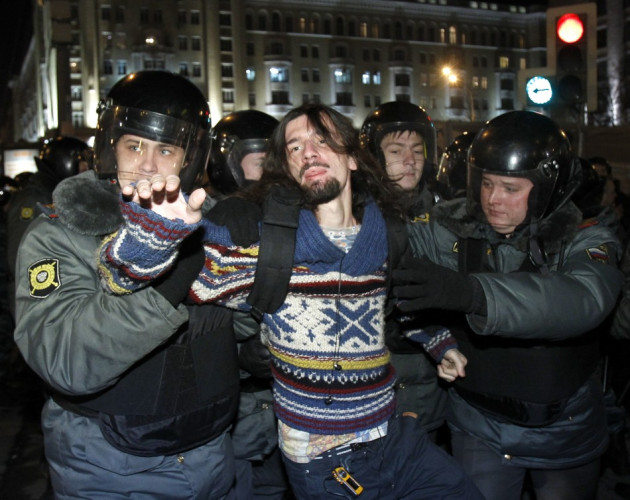 Russian protesters who took the streets to protest against alleged election fraud at Sunday's parliamentary election have defied a ban on unapproved rallies and gathered in Moscow city centre.
At least 100 people have been arrested, according to Reuters. Anti-Putin activists chanted slogans against the ruling party, United Russia.
Liberal politician Boris Nemtsov and other protesters have been arrested by the riot police.
A live video from Moscow's Triumphal Square showed crowds o demonstrators crying out anti-government slogans.
"We want fair elections. Look at what they have done to our country, our Russia," a man arrested by riot police told Reuters.
Meanwhile, anti-corruption blogger Alexei Navalny was sentenced to 15 days in jail for his role in yesterday's protest. "There is not a single doubt that my case is under the special control of the party of crooks and thieves," Navalny told reporters in a courtroom ahead of being charged
The Russian government sent police and Interior Ministry troops into Moscow Tuesday afternoon.
Interior Ministry spokesman Vasily Panchenkov told the BBC they wanted "to ensure the security of the citizens".
Meanwhile, supporters of Putin's United Russia rallied Tuesday in Moscow to celebrate the party's victory in Sunday's vote and to counter the opposition protests.
"We will not let the Russian voting results be turned into a farce, and the free and democratic elections be discredited," members of the pro-Kremlin youth movement Nashi told RIA Novosti news agency. About 15,000 people gathered in central Moscow, carrying portraits of President Dmitry Medvedev and Putin.
On Monday night, in the biggest opposition rally in years, the police detained about 300 activists.
Estimates of the number of protesters ranged from 5,000 to 10,000, according to the AP.
Putin's United Russia party won about 50 per cent of Sunday's vote, which represent a sharp drop from the last election, when the party took 64 per cent.
The opposition politicians and monitors accused Putin of fraud at the ballot-box in order to inflate the vote's results, which represent a symbolic blow to United Russia.
The Organisation for Security and Co-Operation in Europe cited problems with the counting process. "The contest was also slanted in favour of the ruling party, the election administration lacked independence, most media were partial and state authorities interfered unduly at different levels," said Petros Efthymiou.
U.S. Secretary of State Hillary Clinton also expressed "serious concerns" about the conduct of election.
Russia's foreign ministry has dismissed US criticism as "unacceptable", according to Reuters.