Russian military forces have paraded in central Moscow to mark the 71st anniversary of the Allied victory over Germany in the Second World War.
In a speech at the event Russian President Vladimir Putin spoke of the importance of defeating Nazism, and called for the formation of an international security force not formed around a regional bloc.
In the parade Russia showcased its new military equipment, including the S-400 surface-to-air missile defence system used to protect Russian bases in Syria, and planes which have flown missions in the country.
Also on show at the jubilee was the RS-24 long-range nuclear missile.
This year's parade involved 10,000 military personnel, 135,000 armoured vehicles, and 71 aircraft.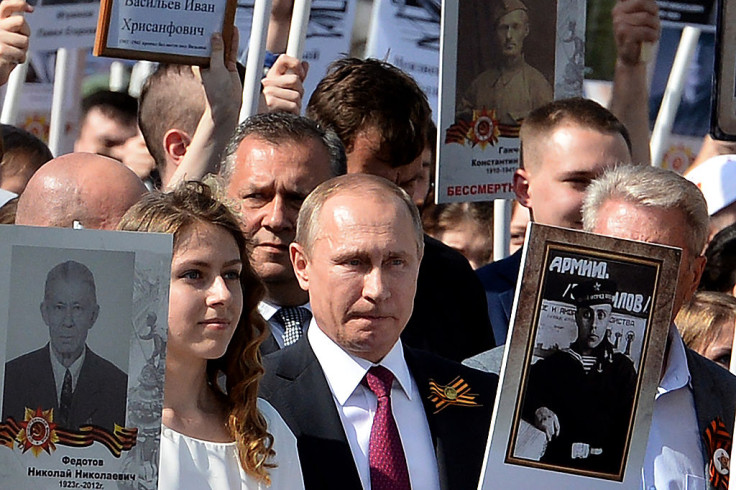 An estimated 27 million Soviet soldiers and civilians were killed in the Second World War, known in Russia as the Great Patriotic War. Russia uses the occasion to stir patriotic feeling and to show off its military might, amid tensions with the West following the conflict in Ukraine and Russia's involvement in the Syrian civil war.
Putin praised Soviet sacrifices in World War IÍ, he said the victory "demonstrated the true strength of our nation, its unity, triumphant spirit and patriotic devotion." Addressing the crowds, which included hundreds of Soviet war veterans, Putin launched a thinly veiled attack on the Nato alliance, calling for a "non-bloc system of international security".
After the parade ordinary Russians took to the street for the Immortals Parade, holding up pictures of relatives killed or wounded in the conflict. Putin joined holding a picture of his father, who was wounded in combat.