New images and details of the Aston Martin Valkyrie have been revealed, with the £2.5m hypercar shaping up to be one of the most extreme cars ever made. It is so obsessed with weight saving that buyers can opt to not have a seat, instead sitting on padding stuck directly to the chassis — and that's just for starters.
Shorter drivers can opt for a removable carbon fibre 'shell' seat, but whichever option the lucky 150 customers go for, they will all be seated like a Formula One driver, reclined and with their feet above their hips.
The spartan yet beautifully finished interior surrounding them has been kept a secret by Aston Martin and partner Red Bull Advanced Technologies since the car was first revealed a year ago. But now, in a state claimed to be 95% complete (minus those flat-sided wheels), the latest prototype lets us see inside this extraordinary machine.
Driver and passenger sit side-by-side, but facing inwards at five degrees to help maximise the limited space the cabin has to offer. Ahead, the driver is presented with a removable F1-style steering wheel covered in buttons for the indicators, wipers, lights and gears, plus an OLED display at its centre replacing traditional dashboard dials.
To the right is a central display for more information, while a pair of smaller screens sit in the corners of the dashboard, streaming footage from two rear-facing cameras designed to replace conventional wing mirrors.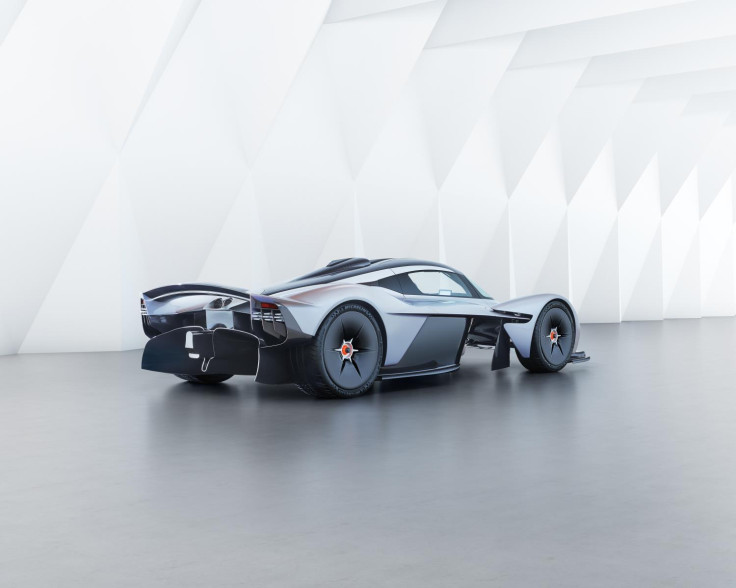 This, as with so much of the Valkyrie's design, is a bid to improve aerodynamics. No detail is greater and more obvious in this department than the enormous venturi tunnels feeding huge quantities of air under the car and onto the rear diffuser, creating up to 1,800kg of downforce.
The tunnels and diffuser give the Aston Martin truly next-generation levels of grip, and company boss Andy Palmer claims a track-only version of the Valkyrie, to be produced alongside this road-legal varient, will lap a Grand Prix circuit like Silverstone as quickly as a modern F1 car.
Matt Hill, creative director of interiors at Aston Martin, said: "We've started from a position where you think something is impossible and work at it until you find a way to make it work. We've been fighting for millimetres everywhere, but the battle has been worth it, as it's been fantastic seeing customers try the interior buck for size...there is genuine space for two large adults." The company says 98% of adults can sit next to each other in comfort.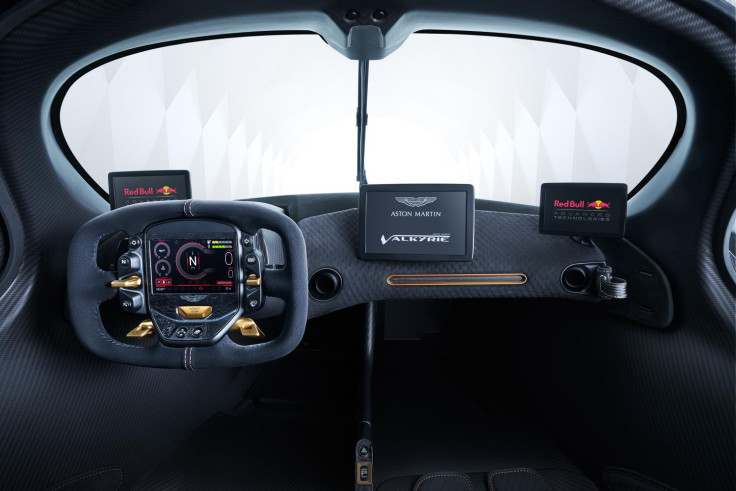 Aston Martin Valkyrie specs
Aston Martin is yet to release a full specification sheet for the Valkyrie, but we now know the car is powered by a naturally-aspirated V12 petrol engine with assistance from an electric motor. Total power output is expected to be a little over 1,000bhp, which twinned with a total weight of just over 1,000kg will give the car a 1:1 power-to-weight ratio, the holy grail in hypercar performance.
Produced by Croatian supercar startup Rimac, the electric motor will be able to power the car independently when required, turning it into a £2.5m milk float for a few miles at a time, and reports claim the motor will also act as the reverse gear.
Weight-saving, as in motorsport, is key to the Valkyrie's performance, and designer Adrian Newey of Red Bull F1 fame has fastidiously cut weight whenever possible. For example, the headlights are 30-40% lighter than those used on other Aston Martins, and the car's nose badge is made from chemical-etched aluminium. It is just 70 microns thick, which is 30% thinner than a human hair and means it weighs 99.4% less than the company's regular badge.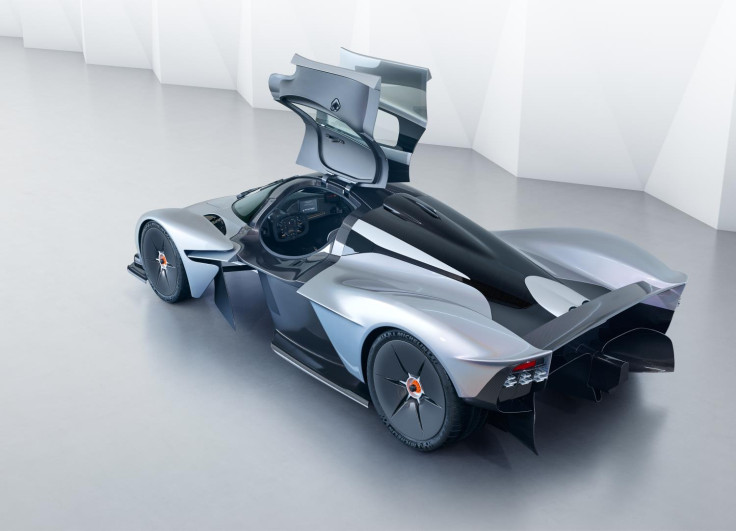 Miles Nurnberger, Aston's creative director of exterior design, said: "I would say we're around 95% of the way there with the exterior design. Much of what you see is actually the structure of the car, so this had to be signed-off relatively early in the project. The remaining areas of non-structural bodywork are still subject to evolution and change as Adrian [Newey] continues to explore way of finding more downforce."
Development of the Valkyrie will be completed next year, with the first customer deliveries beginning in 2019.