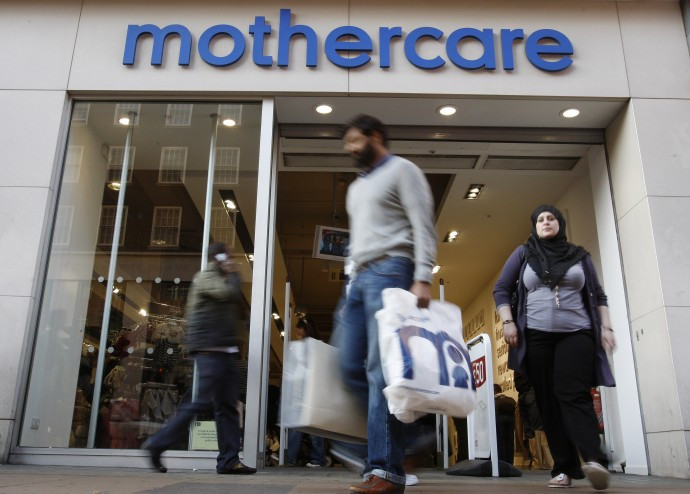 Shares in Mothercare were down on the FTSE 250 in morning trading after the group said it was cautious about the coming year, despite seeing a rise in sales in the full year ended 26 March.
Total group sales during the year were up 3.6 per cent, with International sales rising 16 per cent. However in Great Britain sales were flat.
In the fourth quarter of the year total group sales increased 11.4 per cent, with International sales up 10 per cent. In Great Britain sales rose 4.7 per cent.
Ben Gordon, Chief Executive, said, "International has delivered another strong year with franchisee retail sales up 12% at constant rates of exchange in the fourth quarter and up 16% in the full year with 166 new overseas stores opened. The Asia-Pacific region, which includes our joint ventures in India, China and Australia, is growing particularly rapidly with sales up 47% in the year. We now have 1,267 stores in 55 countries with 373 in the UK and 894 overseas including 62 in India.
"In the UK total sales are up 4.7% in the fourth quarter due to increased sales from the new Wholesale business and continuing benefits from our property strategy. The UK trading environment however remains difficult with weaker consumer demand and lower footfall. We have cleared Autumn/Winter stocks in an increasingly competitive environment and, as a result, we expect UK gross margin for the full year to be down 2.5 percent which is 0.5 percent lower than previous guidance. As planned, during the year we closed 26 high street stores and opened 12 parenting centres.
"Looking to the new financial year we expect International to continue its rapid growth with at least 150 new overseas stores opening. In the UK we expect the consumer environment will be challenging and accordingly, we are planning cautiously. We will benefit from continued progress in Wholesale however we expect the profitability of the UK retail operations to remain under significant pressure in 2011/12 with weak demand continuing, although input cost pressures on gross margin will be offset by cost savings. Work is now underway to identify further opportunities to extend our UK property strategy and we will be giving an update on this and on our other key initiatives at our Preliminary Results in May."
Keith Bowman, Equity Analyst at Hargreaves Lansdown Stockbrokers, commented, "In the wake of a disappointing update from Dixons, Mothercare is today again testing investors' resolve. The profit margin for the group's pressured UK business appears to have been sacrificed in order to clear stocks, with intense competition and weak consumer demand both highlighted by management as responsible. In addition, comments relating to the outlook for the UK business add further gloom.
"In all, whilst growing sales in the Emerging Market regions provide some solace, in the retail arena, caution remains the key watch word, with investors in no mood to provide the 'benefit of the doubt'. As such, the current hold consensus opinion appears likely to come under further pressure."
By 09:10 shares in Mothercare were down 9.05 per cent on the FTSE 250 to 402.00 pence per share.