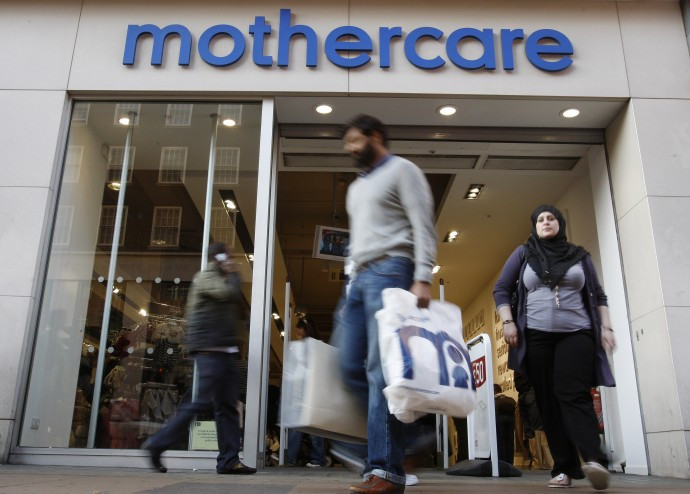 Shares in Mothercare were down on the FTSE 250 in morning trading after the retailer reported a it had been impacted by the cold weather in the 12 weeks to 1 January 2011.
Total group sales were reported as rising 0.4 per cent, while sales in Britain fell 1.9 per cent. UK like for like sales fell 4.8 per cent.
In the year to date total sales rose 1.7 per cent, while sales in Britain fell one per cent.
Ben Gordon, Chief Executive of Mothercare, said, "We continue to make good progress with our key strategic initiatives, including the UK property restructure and the rapid growth of Wholesale, Direct and International.
"In the UK, after a strong start to the quarter, sales were impacted significantly by the adverse winter weather conditions which caused widespread disruption, particularly in our out of town stores. Direct deliveries were also affected and we cut off Christmas orders early to ensure that our customers received their deliveries on time. We estimate that the weather disruption has reduced UK like-for-like sales in the third quarter by approximately 4%, with toy sales particularly affected, and as a result full year UK gross margin will be 1% lower than previous guidance. Whilst this will be partly offset by cost savings, including a significant reduction in the share based payments charge, we expect Group Underlying Profit Before Taxation for the full year to be below current market expectations.
"International has had another strong quarter with total retail sales up 17.6%. So far this year we have opened 157 new overseas stores taking the total to 885. The Asia-Pacific region, which includes our three joint ventures in India, China and Australia, performed particularly well with sales up 49%. Worldwide, we now have a total of 1,262 stores in 55 countries with 377 stores in the UK, 390 in Europe, 262 in the Middle East and Africa and 233 in Asia-Pacific.
"Whilst International continues to grow rapidly, we are planning cautiously in the UK where the consumer environment remains difficult."
Keith Bowman, Equity Analyst at Hargreaves Lansdown Stockbrokers, commented, "Despite growing international sales, an already challenged UK business now forms another victim of the cold weather. The group's shift towards out-of-town premises appears to have worked against it, whilst like rival Next, the fragilities of time critical direct online Christmas sales have been exposed.
"In all, a mild profits warning will do little to cheer frost bitten investors. Nonetheless, taking a longer term prospective, 'self help' initiatives are attempting to address underlying UK difficulties, whilst an ongoing push into emerging markets and a progressive dividend policy continue to provide appeal. On balance, market consensus opinion currently denotes a strong hold."
By 11:40 shares in Mothercare were down 5.27 per cent on the FTSE 250 to 566.50 pence per share.