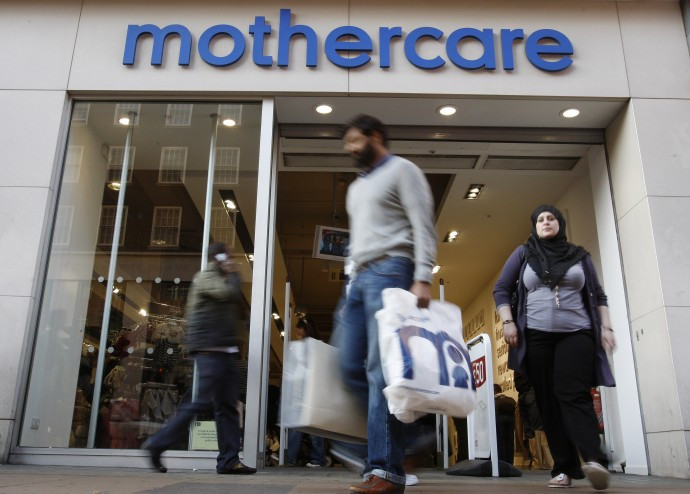 Shares in Mothercare were up on the FTSE 250 in morning trading after the group said it had returned to profit in the half year ended 9 October.
Group sales were reported as rising 2.5 per cent to £397.1 million, with worldwide network sales up 7.5 per cent to £590.2 million. In the United Kingdom sales fell 0.4 per cent to £295.1 million.
Mothercare said that it went from a loss before tax of £7.1 million in the same period last year to a profit of £0.3 million. On an underlying basis the group saw its pre-tax profit rise 22 per cent to £12.2 million.
The group said that it would be increasing its interim dividend 16.4 per cent to 6.4 pence per share.
During the period Mothercare opened 112 new stores internationally, taking its number of overseas stores to 840 in 53 countries.
Ben Gordon, Chief Executive of Mothercare, said, "International is going from strength to strength with retail sales up 17.3% and profits up 33.9%. We now have 860 stores overseas in 53 countries and are on track to meet our new target to open at least 150 in total this year. In the UK which remains challenging, the important property restructure is progressing well, Direct continues to grow strongly and our new Wholesale channel was boosted by the successful launch of mini club, our new clothing partnership with Boots.
"The UK consumer environment remains uncertain and we continue to plan cautiously. We are however benefiting significantly from the strategic initiatives we have taken and from the rapid growth of International, Direct and Wholesale. Having regard to the overall performance of the group and its underlying cashflow, the interim dividend has been increased by 16.4%."
Keith Bowman, Equity Analyst at Hargreaves Lansdown Stockbrokers, commented, "Investors remain caught between prospects for a challenged UK business and an ongoing expansion into international and emerging markets. Whilst underlying UK profits have declined by 69pc, international profitability has increased by 34pc. The half year period saw the 50th store in India opened, with the target for full year store openings overseas raised from 100 to 150.
"Meantime in the UK, competition for toy sales remains intense, freight costs have risen, whilst synergies from the past takeover of 'Early Learning' have largely run their course.
"In all, despite clear near term challenges, the group's defined long term strategy remains attractive. A push into online sales and other 'self help' initiatives are attempting to address UK difficulties, whilst an ongoing courtship of population and income growth in the emerging markets continues to appeal. Although catalysts for a near term re-rating remain absent, a confident 15pc plus increase in the dividend payment should help to reassure investors. For now, market consensus opinion continues to denote a strong hold."
By 09:20 shares in Mothercare were up 0.29 per cent on the FTSE 250 to 518.00 pence per share.