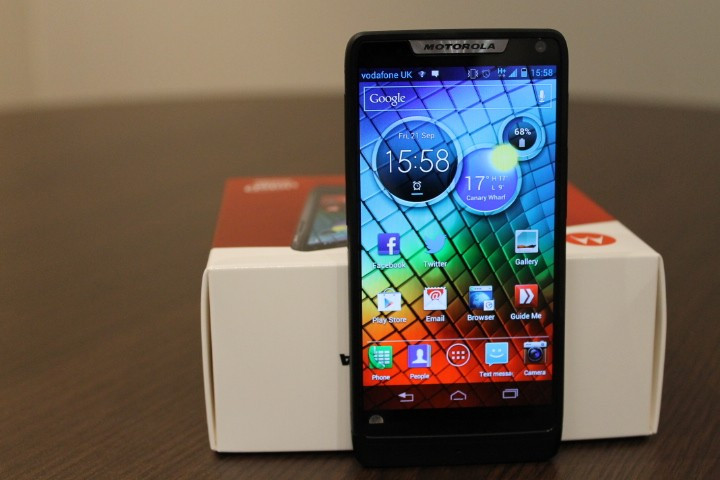 Key Features
4.3in AMOLED display

2GHz Intel Atom processor

8 megapixel camera with HD video

Android 4.0.4 (Ice Cream Sandwich)

Near Field Communication (NFC)

Price: Free from £31-per-month on T-Mobile and Orange from 1 October. SIM-free: £342
Motorola RAZR i: Introduction
The RAZR i is Motorola's newest smartphone and features a 4.3in screen, Android Ice Cream Sandwich (with a Jelly Bean update coming) and a 2GHz Intel Atom Processor - in fact it's just the second phone in Europe to get an Intel chip, behind the Orange San Diego.
Although yet to reveal a price or exact release date, Motorola has said that the RAZR i will be available from the start of October and we expect it to cost in the region of £300 SIM-free.
Motorola RAZR i: Design and Feel
Ever since the original clamshell-style RAZR arrived on the scene back in 2005, Motorola has chosen to start out from the crowd by offering an industrial design theme focused on exposed screws, Kevlar construction and build quality that shrugs off most knocks and drops.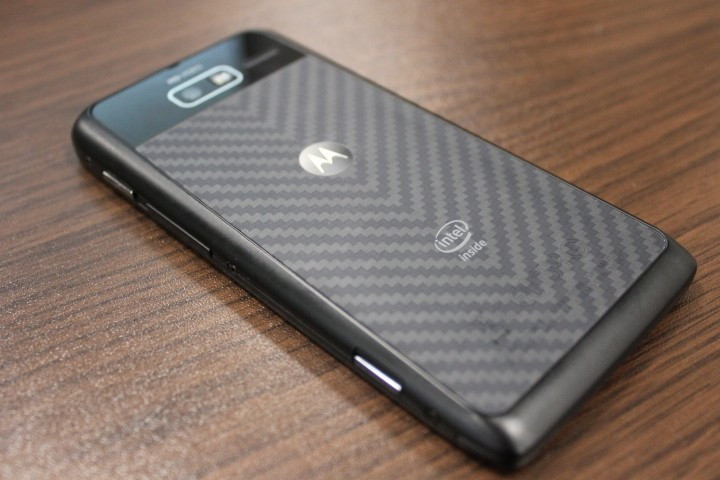 To this extent the RAZR i is no different, with its matte black and Kevlar finish. What makes it stand out is its edge-to-edge display which, as the name suggests, stretches right to the edge of the phone.
This means the RAZR i's screen is 15 percent larger than the 4in iPhone 5, but the phone overall footprint is smaller - the iPhone 5 is noticeably thinner and lighter.
With its incredibly thin bezel the Motorola RAZR i is almost all screen and as a result feels great in the hand - it's an obvious but effective design that gives you the extra functionality of a larger screen, but with the overall size of a more pocketable phone.
While the bezel to the screen's left and right is remarkably small, the space below the screen is vast and mostly blank apart from a tiny hole for the microphone - we imagine that packaging constraints has led to the somewhat unattractive and slightly tapered chin.
Motorola says the RAZR i has a 4.3in screen, and it does, but you'll find that the three Android navigation buttons which are usually separate to the screen are in fact displayed on it, stealing just under a centimetre of space.
Above the screen there is a Motorola logo neatly hiding the speaker and there's a front-facing camera on the right, and a proximity sensor on the left
The right edge of the RAZR i is home to the power/screen lock button, volume rocker and a dedicated camera button that can open the app in less than one second; the left edge has a microUSB port for charging and syncing, and a plastic door revealing a microSIM card slot and space for a microSD card.
We found the plastic door, tethered to the phone with a small rubber hinge, to be a little flimsy and felt like it would break easily if opened often.
Of course, you are unlikely to need to access your SIM card and micro-SD card often, but it still feels like the weak link in an otherwise sturdy and well-built phone.
Finally, there's a 3.5mm headphone jack on the top, and Motorola has installed an 8-megapixel camera with autofocus and LED flash, next to which sits a speaker.
The back panel is coated in a finish that Motorola claims to be Kevlar, looks like a V-shaped carbon fibre weave, but actually feels similar to rubber.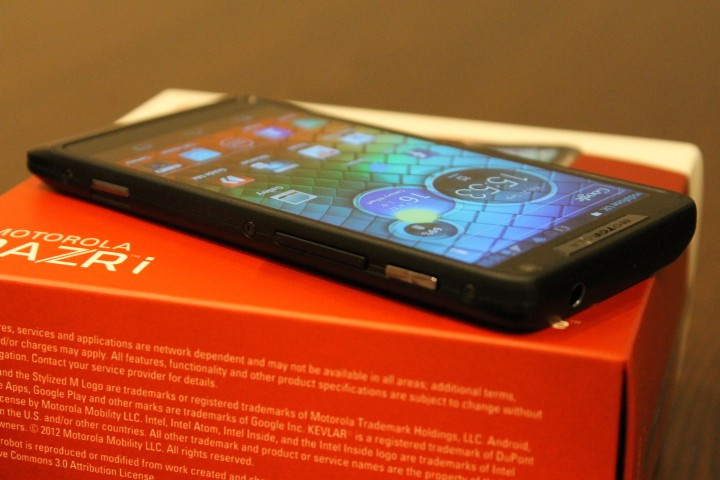 Thanks to tight panel gaps between buttons, the RAZR i is splash-proof, meaning it should survive being used in the rain, but don't expect to be making phone calls after dropping it in your drink.
To make it feel smaller than it actually is, the phone is slightly wedge-shaped that starts thicker at the top and tapers towards the bottom.
During our time testing the RAZR i we found it comfortable to hold, not too heavy, and offering a great balance between having a large screen and being compact enough to use comfortably with one hand.
Motorola RAZR i: Hardware and Connectivity
Inside the tough-looking matte black case you will find a 2GHz Intel Atom processor - which if the fastest clockspeed a smartphone processor has ever been officially set at - and 1GB of RAM, along with 8GB of internal storage, but thankfully this can be upped via the microSD card slot.
The RAZR i has the usual wireless connections such as Wi-Fi 802.11 b/g/n, Bluetooth and an NFC chip for exchanging contacts and images with other phones by tapping them together.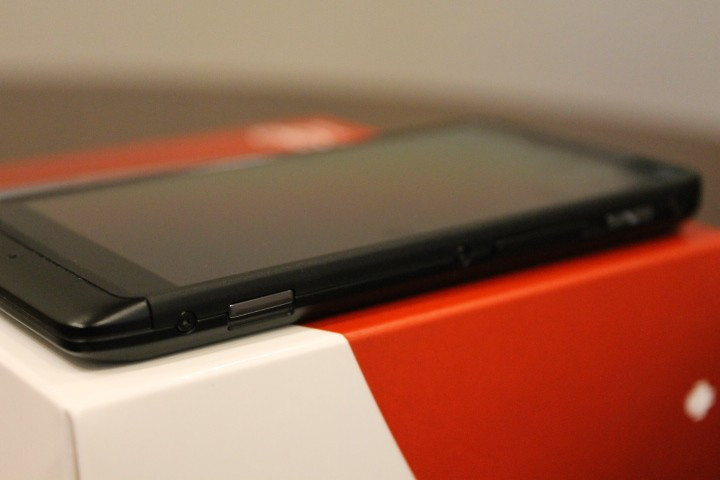 As we said above, there is an 8 megapixel camera at the back, that is capable of shooting 1080p HD video, while the front-facing camera is only VGA, meaning it can record video at 640x480.
For syncing and charging there is a microUSB port and sadly the RAZR i foregoes any form of HDMI port for hooking the phone up to a TV.
The Motorola has a 2,000 mAh battery - larger than most other smartphones - but it cannot be removed, so there's no option of carrying a spare battery incase the phone dies.
Motorola RAZR i: Operating System and Performance
Despite being brand new - and not actually on sale until October the Motorola RAZR i misses out on the latest version of Android, known as Jelly Bean.
Instead, the phone has to make do with Android 4.0.4 (Ice Cream Sandwich) - we can only guess that, with Jelly Bean being very new, Motorola hasn't yet had time to work with it.
Still, considering Motorola is now owned by Google, it seems odd.
But fear not, because the company has said that an update to Jelly Bean for the RAZR i is on the cards, and anyway, the version of Android 4.0 that's used is far cleaner and closer to the original software than most we have seen recently.
Where Samsung's TouchWiz interface looks drastically different to regular Ice Cream Sandwich, Motorola has done little to change the OS apart from introducing its own Home screen widget, Circles.
Circles consists of three, um, circles. Each contains information such as the time, weather, battery life and unread text messages, and can be flicked over to show more.
At the RAZR i's London launch in September Motorola likened the circles to coins on the screen that you can flick around to waste time, and we agree - flicking each circle over to reveal information is strangely satisfying.
Another tweak Motorola has made is an entire Home screen - one of up to seven for you to fill with apps and widgets - dedicated to settings so you can quickly turn Wi-Fi, Bluetooth, GPS and others on and off, without having to launch the full Settings app.
NFC is strangely missing from this list - a list which cannot be modified - but for the amount of times we use NFC, having to dive into the Settings app to turn it on is no big deal.
Motorola has also been busy with the lock screen, which displays the time and date as you would expect, but also gives shortcuts to the Phone app, camera and text messages, although sadly the shortcuts cannot be modified.
The camera can also be accessed by pressing the shutter button located on the right edge of the phone.
At its launch Motorola was keen to stress that the camera can be opened and operational in just one second, and this also works when the phone is locked - more on the camera further down.
As for performance, the 2GHz Intel Atom processor absolutely flies and there's no need to let the fact that is single-core put you off; apps open (and close) very quickly indeed, video streams with ease and we were surprised at how little the phone heats up during intense use.
Once during our week of testing the phone locked up and became unresponsive - even when we asked a friend to call us. This was rectified by holding down the power button for around ten seconds, forcing the phone to reboot.
This was a one-off event and we should point out that our RAZR i is described as a pre-production beta unit by Motorola, so whatever caused the lockup should be fixed by the time the phone goes on sale in October.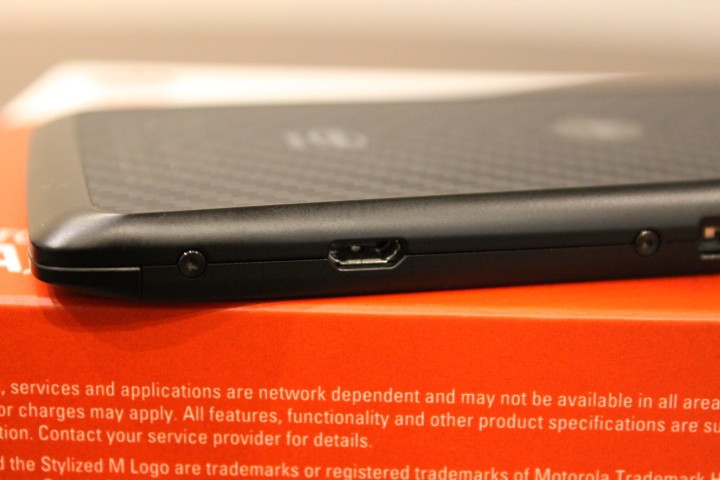 While we expected the RAZR i to be powerful, it's the battery life that probably impressed us most of all. At 2,000mAh it is larger than most other smartphones - the iPhone 4S is 1,440mAh and the Samsung Galaxy S3 is only slightly larger at 2,100mAh, but that is a quad-core phone with an even larger screen than the RAZR i.
What a 2,000mAh battery means in reality is that a) the RAZR i isn't as thin as the iPhone 5, and b) that a full day of average to heavy use is easily acheivable.
During a week of testing the RAZR i we used it as our main phone every day, connected to Wi-Fi for most of the time and constantly on alert for Twitter, Facebook and email notifications, and not once did we see the battery dip below 35 percent, even some 15-16 hours after unplugging at 100 percent in the morning.
Normally in smartphone reviews we suggest that with avergae use they struggle to last more than a single day, but with the RAZR i we are confident that the phone could last for two full days of average use.
Motorola RAZR i: Display
The main selling point of the RAZR i is its screen. Cramming a 4.3in display into a phone only slightly larger than the iPhone 4S - which has a 3.5in screen - is quite an achievement.
It makes for a smartphone that is easy to hold and operate with one hand, but one that offers a display that sits nicely in the mid-range in terms of size; having such small borders on the left and right also help to make the screen look bigger than it actually is.
The Super AMOLED screen has a resolution of 960x540 - same as the HTC One S - and offers punchy and vibrant colours with very dark blacks - our only criticism would be that the colours are sometimes a little too saturated, making some brightly coloured icons look as if they are trying too hard to get your attention.
While not at iPhone Retina levels, the pixel density is sufficient to be able to see individual pixels only when looking very closely at the display.
With that 2GHz Intel chip inside, the RAZR i's screen is as responsive to touch as you would hope and we never once felt like it wasn't able to keep up with our inputs, no matter how quickly we flicked around the user interface.
Motorola RAZR i: Camera
As we said earlier, the RAZR i has an 8-megapixel camera on the back and a VGA camera on the front.
The camera can be opened from the lock screen or by pressing the shutter button on the right-hand edge - either action opens the camera in just one second, greeting you with Android's familiar camera app, albeit stripped down somewhat.
There's a shutter button on screen - although the dedicated button is much easier to use - and options for adjusting the exposure and flash.
Photos can be taken with a black and white, negative or sepia effect, there's a HDR (high dynamic range) option to improve photos where there is high and low light in the same shot, and images can be shot in either 6- or 8-megapixel quality.
Images produced by the RAZR i are, on the whole, very good, but we found the colours to not be as vibrant as we had hoped, with everything looking grey and a little dull; there was also some noise in darker areas of the photos.
This could well be to do with the overcast weather on the day we tested the camera, and as with all cameras we'd expect it to perform better on a bright, sunny day.
Verdict:
The Motorola RAZR i is a sturdy and well-built smartphone that packs a mighty Intel punch and a screen far larger than its footprint would suggest. It's a phone that will survive a rain shower and shrug off sharing a pocket full of keys and coins, while offering up a decent camera - and it should get Android Jelly Bean soon, making it future-proof for at least a year.
The phone is free on Orange and T-Mobile contracts from £31 per month, and although we are yet to hear what the SIM-free price will be, we'd expect it to cost around £300 when it goes on sale on 1 October.
As far as a mid-range phone goes, the RAZR i is very good indeed and is comparable to the HTC One S.
Scores:
Screen: 8/10
Design: 6/10
Camera: 8/10
Software: 8/10
Build Quality: 9/10
Overall: 8/10
The Good:
Great screen
Nice build of Android
Impressive camera
Splash-proof
The Bad:
Unattractive design
Thicker than we'd have liked
No Jelly Bean at launch
Non-removable battery