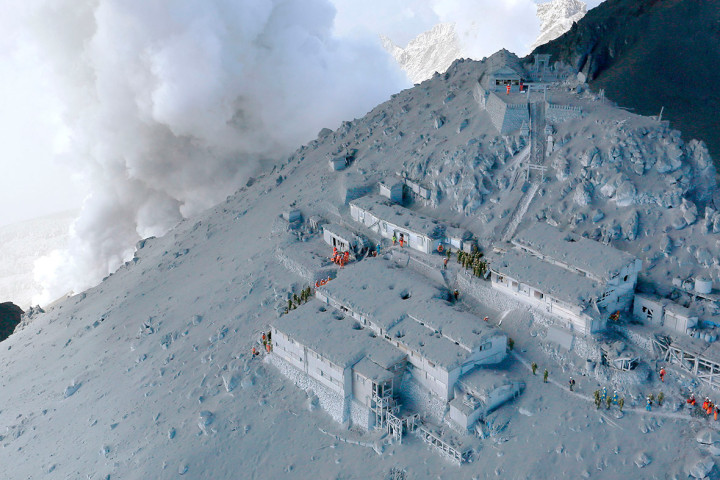 Hikers close to the summit of Mount Ontake when it erupted on Saturday, were hit by huge rocks and had their throat and lungs burnt by hot volcanic ash, according to recent reports.
"They were hit by huge rocks (the size of a car) and their throat and lungs were burnt by ash," said a source, speaking about Japanese news reports.
There is believed to have been at least 250 people hiking up Mount Ontake at the time of the eruption around noon.
Many people have been left in shock over the incident. A similar eruption occurred in 1979, but nobody was killed.
"Nobody expected that mountain would erupt so suddenly," said the source. "It was unfortunate that it was a nice day and many people were on the mountain."
Mount Ontake continues to erupt, but due to fears over toxic gas and ash, over 200 soldiers and firefighters have been forced to suspend the search for now.
The rescuers reported a strong smell of sulphur this morning and the search was halted around 1:30PM local time.
There is believed to be over 30 dead, with a possible 40 still missing. 12 bodies have been recovered and flown down, leaving 19 near the summit. Only two of the dead have been identified. Both of them men, aged 23 and 45.
Japanese media has reported that some bodies were found in a lodge near the summit of the mountain. Others are thought to have been buried in ash up to half a metre deep.
Concern is now growing among the Japanese public about increased seismic activity. There has been a lot of earth movement recently, with a 5.6 magnitude earthquake hitting Tokyo two weeks ago and a 5.0 magnitude one just off of the coast of Fukushima last week.