After three games without a win, this victory was priceless
Manchester United did not play well on Saturday against Crystal Palace. Not by a long shot. They were slow, passive in possession and created very few clear-cut opportunities against a Palace side that could only muster 29% of possession over the entire game. But it's worth pointing out that Louis van Gaal's side still won. For all of the criticism sent United's way (and little of it is unfair), the Dutchman must be happy with the result, if not the way his team engineered a path towards it.
The simple fact is that this was a game that the home side had to win. Yes, draws were salvaged late on against both Chelsea and West Brom, but having lost to Manchester City last weekend, United had earned a grand total of two points from three games since returning to action after the international break in mid-October. Extra emphasis is placed on United's Premier League games this season, purely down to the fact that they'll be competing in no other competition until January, so a win, regardless of the circumstances, must be welcomed.
....But this was a rather uninspired performance
Having suffered further defensive injuries in the last ten days, with Rafael and Marcos Rojo the latest to be struck by Van Gaal's injury curse, the Dutchman was most likely thinking of protecting yet another entirely unfamiliar back four when he sent his side out on Saturday. Luke Shaw and Paddy McNair are no strangers to their positions this season, but the enforced inclusions of Daley Blind and Antonio Valencia made this defence look even more ragtag than the one that saw out last weekend's derby.
The problem was that the shape of United's midfield, steering clear of the penetrative diamond that worked relatively well earlier this season, did not help going forward. Angel Di Maria is more than used to playing out wide, a position he frequented whilst at Real Madrid but he was marked out of the game far too easily and struggled to have an impact. Compare that with his effectiveness on the left side of the diamond formation, and it's like night and day.
Couple that with Adnan Januzaj's inconsistent performance on the opposite flank and Wayne Rooney's ineffective central performance, and it wasn't difficult to see why the home side toiled so. Once Crystal Palace settled, they were tough to disrupt, with Di Maria and Shaw offering spurts of danger with penetrative runs that were all too infrequent.
Had Frazier Campbell taken advantage of Blind and McNair's only significant lapse as a central partnership, both losing sight of a route one delivery and allowing the former United man a clear sight at goal, then the first half, and indeed the game, would have ended with far more frustration. Had it not been for Juan Mata's intervention, it's tough to see how the home side were going to find a way through Neil Warnock's side.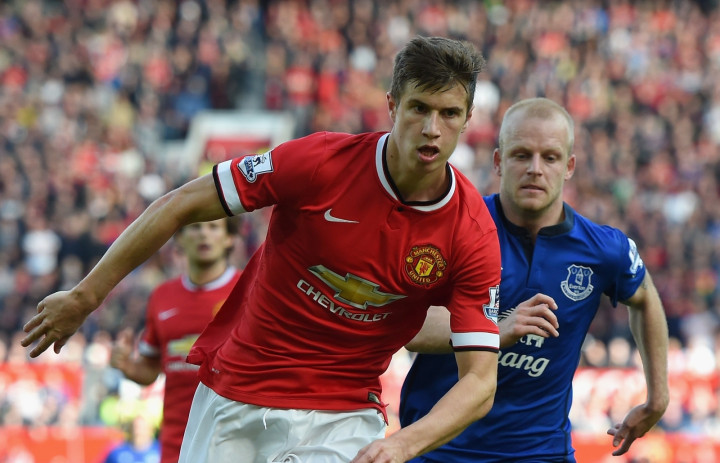 Mata to the rescue
On a personal level, this must have been a rather difficult year for Juan Mata. He was forced to leave Chelsea, a club he clearly loved and had won trophies with, having been told that he was not going to feature heavily in Jose Mourinho's plans, and then joined United during the biggest period of transition in the club's modern history.
The Spaniard was a certain starter under David Moyes but not so under van Gaal, and having failed to shine during Rooney's suspension with ineffective displays against Chelsea and West Brom, his absence from the Manchester derby wasn't a surprise. With that in mind, it's no surprise that he celebrated his winning goal on Saturday afternoon with a little more intensity.
Simply put, it was a moment both the club and the man himself needed. It was a reaffirmation of the skill he possesses, and whilst Julian Speroni may still feel like he should have coped better with Mata's long range effort, the fact that he had the guts to attempt to strike from such distance, having seen his colleagues toil for almost 67 minutes, shows a self-belief that United needed. A late strike of the post confirmed that his contributions carried the greatest weight against Palace, and given his recent troubles, that goal will feel all the sweeter.
A Moyes-ian display?
In short, yes. It wasn't quite as simplistic as the David Moyes standard tactic of getting the ball out wide, crossing and hoping for the best, but thinking back to some of the more uncomfortable matches under the Scot's stewardship, you'd struggle to pick this particular performance out of that line-up.
United toiled; invention was all too frequently in short supply and the lack of intensity to their play was noticeable. Neil Warnock's side didn't exactly have it easy; when an opposition side dominates possession in that manner, concentration must be absolute, because a single mistake can be fatal. But for the most part, they stuck to their task, and United frequently had no answer to their resistance. So yes, hardly a great advert for this new reign, but then again, we know that van Gaal's side are capable of better. We've seen it this season. Under Moyes, such comforts were all too rare.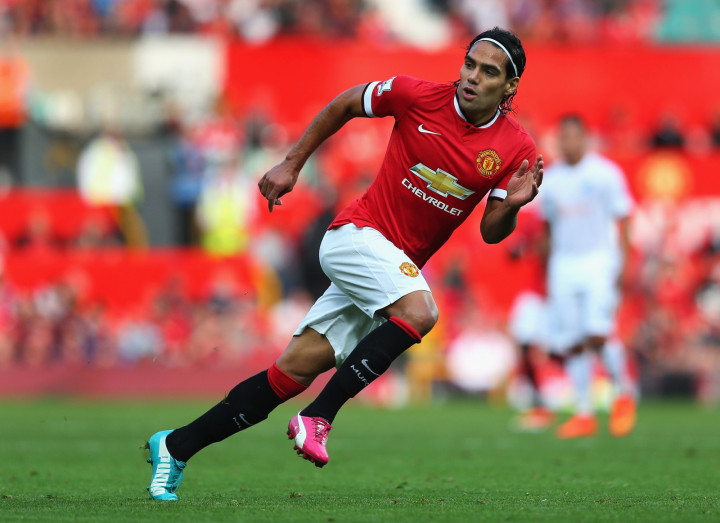 Falcao is vital for Arsenal

Radamel Falcao, Jonny Evans, Rafael, Phil Jones.....United's manager could do with several of these faces back in his starting line-up in two weeks' time, none more so than the Colombian, who hasn't featured since a substitute appearance at The Hawthorns. There's such a lack of confidence and variation in the club's attack at present, and ahead of the visit to the Emirates, a misfiring and out-of-sorts Robin van Persie leading the line is not something that will fill the travelling contingent with confidence.
On the other hand, Arsene Wenger is a man that has seemingly developed an increasingly complex phobia of facing United. Sir Alex Ferguson figured out how to beat Arsenal years ago; unsettle, contain and counter, and that's a huge part of the reason that Wenger has emerged victorious just once in this fixture in his last fourteen attempts.
Even during Moyes' reign, the Gunners couldn't get a goal past David De Gea in two games. Sunday's collapse away to Swansea confirmed to all, if it was needed, that the same defensive and mental frailties that have plagued the club for years are still ripe for exploitation. It's a crucial game for both sides; they need a top four finish this season, with neither looking likely to trouble Chelsea for the Premier League title. As such, even with top spot far from the mind, it should be another fascinating encounter.
The article was provided by Red Mancunian, one of the most popular Manchester United fan accounts in the world. You can follow them on Twitter here or go to www.redmancunian.com.