Nick Clegg laid down the gauntlet to MPs by saying he would refuse a recession-busting £10,000 pay rise.
Deputy prime minister Clegg said the public would find it "impossible to understand" any raise in MPs' salaries while the public sector was being squeezed.
By announcing the stance at his press conference, the Liberal Democrat leader become the most senior MP yet to reject the rise, which is expected to be announced later this week.
Under plans prepared by the Independent Parliamentary Standards Authority (IPSA), the basic salary for an MP would climb from £66,396 to £75,000 - or 15%.
That comes at a time that public sector pay hikes are pegged at 1%, and many private sector workers have seen real terms pay cuts.
The public is set to get a say on MPs' pay in an upcoming consultation, which may have sharpened some parliamentarians' minds on the issue.
Clegg said: "My own view is that the public would find it impossible to understand - particularly as millions of people in the public sector whose pay is only increasing by one per cent - they would find it impossible to understand that MPs would be receiving pay increases far above that.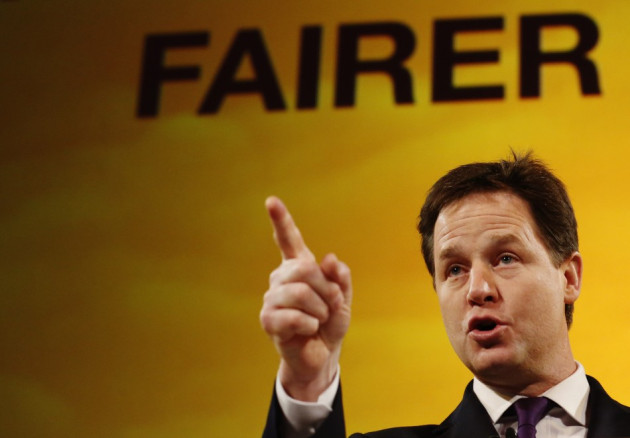 "Speaking for myself I would certainly seek to do whatever I can to make sure that either this decision is not taken in the first place - but that's out of my hands - but, secondly, if were to be taken, not to take that pay increase."
A poll by IPSA - which regulate MPs' expenses claims, revealed politicians all thought they deserved more cash. But there were differences between the parties on how much more.
Tories topped the salary wish list at £96,740, followed by the Lib Dems on £78,361 and Labour on £77,322.
Clegg's vow goes further than Prime Minister David Cameron's own protests at the plans put forward by Sir Ian Kennedy, head of the IPSA.
Cameron, currently on tour in India, called it unthinkable.
"Whatever Ipsa recommends, we can't see the cost of politics or Westminster going up. We should see the cost of Westminster go down.
"Anything would be unthinkable unless the cost of politics was frozen and cut, so I'll wait and see what Ipsa have to say. What I said to Ipsa was that restraint is necessary."
Sir Ian thinks a pay rise is necessary in order "to bring MPs in line with other professionals".